Trade War Is a Mess for the Maker of Roomba
(Bloomberg) -- IRobot's April-to-August rally has been seriously dented.
The problem is 100 percent of its leading product is Made in China.
The trade war that has the U.S. and China lobbing tariff threats back and forth is adding to iRobot's recent woes. The stock is off 32 percent from a late August high, falling 13 percent in the past two days alone after releasing third quarter results.
The maker of Roomba robotic vacuums more than doubled during the spring and summer, helped by dwindling concerns that it would soon face competition from Amazon, plus a sterling second quarter earnings report in July.
Now another threat is on the horizon: how U.S. tariffs on goods made in China will affect iRobot. That uncertainty has investors focused more on the future than the strong quarter's earnings reported on October 23.
IRobot posted "another impressive quarter with revenues, margins and EPS comfortably above expectations," Piper Jaffray analyst Troy Jensen wrote in an October 24 research note. Still, Piper cut its price target to $82 from $90 and left a neutral rating on iRobot.
The Roomba, iRobot's flagship product, is manufactured exclusively in China. Just since President Trump's 10 percent tariff on Chinese imports came into effect on September 24, the stock has dropped about 23 percent.
In its third-quarter report, iRobot said it will absorb $5 million in incremental tariff costs, choosing not to raise prices. And tariffs are set to get worse, increasing to 25 percent on January 1 if the Trump administration doesn't strike a deal with China.
Meanwhile, short sellers have been out in force, gunning for iRobot. Short interest peaked in late June at about 49 percent of shares outstanding but still stands at almost 31 percent, according Markit data.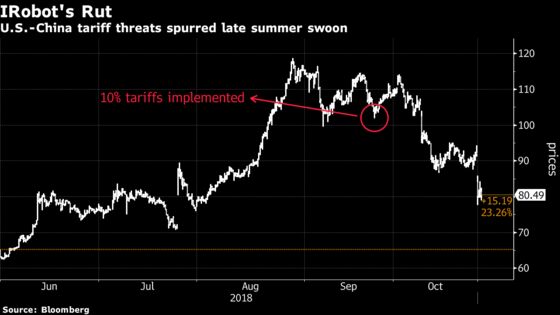 "While we remain upbeat with respect to the potential for strong top line growth, we believe the trade tariffs will have a fairly material impact on profits," Piper's Jensen wrote. He increased his 2018 estimates to reflect iRobot's third quarter strength, but lowered margins for 2019 on expected tariff expenses.