Irish Banks Slump as Outsize Coronavirus Losses Take Toll
Shares in Ireland's two biggest lenders slumped, as Bank of Ireland Group Plc laid out the impact of the coronavirus outbreak on its business.
Bank of Ireland plunged 15% in Dublin on Monday, while AIB Group Plc fell 14%. The two are the worst performers on the Bloomberg Europe Banks and Financial Services Index, which fell 2.1%.
"We had expected other business income to decline by high single digits for 2020, so the guidance of a 30% to 40% drop is shocking," Daragh Quinn, an analyst at Keefe, Bruyette & Woods, said by email. "It also adds focus to AIB tomorrow."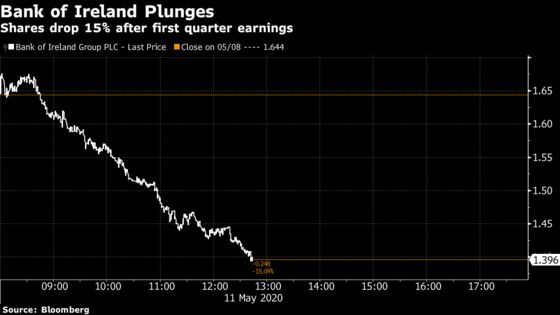 Earlier, Bank of Ireland said it had swung to a loss in the first quarter amid a 250 million euro ($271 million) impairment charge for potential loan losses and warned 2020 profit would be materially lower than 2019. Ireland's government is taking a more cautious approach to reopening the economy than nations such as Germany and France, with full reopening not due until the middle of August.
"2020 consensus earnings are likely to see material downgrades on higher provisions and softer business income," Citigroup Inc. analysts including Andrew Coombs said in a research note.
Irish Banks Again Europe's Worst Performer as Crashes Add Up
Net interest income could be as much as 10% lower than year ago, Bank of Ireland Chief Financial Officer Myles O'Grady said on an analyst call Monday. Business income is now expected to be as much as 40% lower.
Bank of Ireland shares have now fallen 71% so far this year, while AIB, which reports first quarter earnings on May 12, has lost 70%. Both lenders were already struggling to boost income amid low interest rates even before the coronavirus hit, while Brexit uncertainty had weighed heavily on the Irish economy.