Iraq's Oil Output Cuts Fall Short of OPEC+ Target
Iraq appears to be cutting oil production to meet its OPEC+ quota, though it may still fall short of full compliance with the cartel's target this month.
The nation's crude exports have fallen by 2% so far in June, according to tanker-tracking data compiled by Bloomberg. That suggests it's not yet on track to fulfill an agreement it struck with other major oil producers in April.
With the coronavirus throttling oil demand, Saudi Arabia and Russia rallied the OPEC+ alliance to cut supply by almost 10 million barrels a day in May and June. The group agreed this month to extend the reductions -- which have helped Brent crude prices more than double since late April -- until at least the end of July.
The accord almost fell apart at a meeting in early June because of non-compliance. Iraq, which lowered output by less than half the amount it pledged to in May, was singled out as the main culprit. The country's new Oil Minister Ihsan Abdul Jabbar promised this week to correct that with a swift reduction in exports.
Iraq trimmed average daily shipments during the first half of this month by 82,000 barrels to 3.49 million.
The state oil marketer, known as SOMO, sold 3.16 million barrels a day during that period. That's above the full-month daily forecast announced by Jabbar of 2.8 million barrels.
The semi-autonomous Kurdish regional government in the north has separately sold 327,000 barrels a day in June, the tanker tracking showed. That's below the cap of 370,000 barrels that Jabbar said Baghdad had proposed to the Kurdish authorities.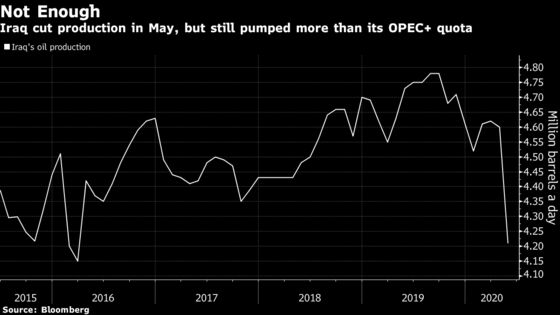 "Compliance is in our interest," Jabbar, who was appointed this month, said late Sunday to an Iraqi television channel. If countries don't respect the OPEC+ quotas, crude prices could drop again and further imperil producers' finances, he said.
Under its quota, Iraq is meant to produce no more than 3.59 million barrels a day -- including oil for domestic consumption -- from May through July. Last month, it pumped 4.21 million barrels daily, according to data compiled by Bloomberg.
A committee from the Organization of Petroleum Exporting Countries and its partners will meet later this week to review compliance.
Brent crude declined 1.8% to $40.23 a barrel by 12:23 p.m. in Singapore on Wednesday, extending its loss this year to 39%.
Iraq's perilous economic position constrains its ability to cut oil exports. The World Bank forecasts that gross domestic product per capita will drop this year to the lowest level since 2006. The budget deficit is predicted to hit 22% of GDP.