Iran Says It Thwarted U.S. Attempt to Seize Gulf Oil Cargo
Iran said its Islamic Revolutionary Guard Corps seized an oil tanker in the Gulf of Oman last month as part of an operation to foil a U.S. attempt to take control of a shipment of Iranian crude.
State television said U.S. naval forces were escorting a vessel named Sothys carrying Iranian crude when the IRGC took control of it and brought it to Iran. The ship arrived at the port of Bandar Abbas at 8 a.m. local time on Oct. 25, according to a statement on the IRGC's news portal sepahnews.com.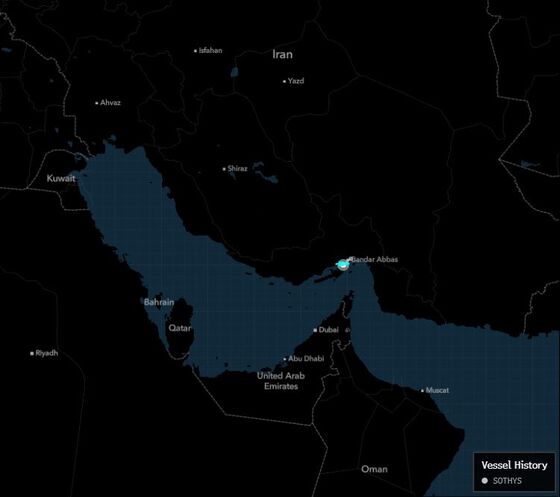 Iran TV Identifies Oil Tanker it Seized in Gulf as Sothys
Rejecting as a "ridiculous claim" the Iranian assertion that the U.S. was trying to take control of the tanker, Defense Department spokesman John Kirby told reporters at the Pentagon Wednesday that "'the only seizing that was done was by Iran." He said the U.S. was in the area to protect freedom of navigation.
Citing unnamed U.S. officials, the Associated Press said the tanker is Vietnamese and was seized by Iran in the Gulf of Oman on Oct. 24. It's currently stationed at Bandar Abbas, the AP said. The MV Sothys is owned by the Hanoi-based Opec Petrol Transportation Co., a subsidiary of FGAS Petrol Co. Ltd, according to data from Clarkson Research Services Ltd.
The company didn't respond to phone calls during after-work hours in Vietnam. A spokesman for the U.S. Navy's Fifth Fleet, which is based in the Persian Gulf, said the Iranian TV report was being investigated but wasn't able to immediately comment.
The claims come as Iran announced the resumption of multiparty nuclear talks that have been stalled for months. The negotiations are aimed at restoring the beleaguered 2015 atomic deal that former U.S. President Donald Trump exited more than three years ago. 
Trump imposed tough penalties on Iran's oil exports, with the standoff triggering a spate of tit-for-tat attacks on tankers in the oil-rich Persian Gulf amid other confrontations. 
Iran's state broadcaster aired a dramatic seven-minute video showing Iranian forces boarding a helicopter and then landing on a tanker. Aerial footage shows the ship flanked by two smaller military vessels and several speed boats, while helicopters hover above.