Iran's Tracked Oil Exports Hit 2 1/2 Year Low Before Sanctions
(Bloomberg) -- Oil exports from Iran fell to their lowest level in 2 1/2 years before the impending return of U.S. sanctions.
Observed shipments of crude and condensate dropped to 1.72 million barrels a day in September, down 260,000 barrels a day from the previous month, according to tanker tracking data compiled by Bloomberg. The combined outflow was the lowest since February 2016.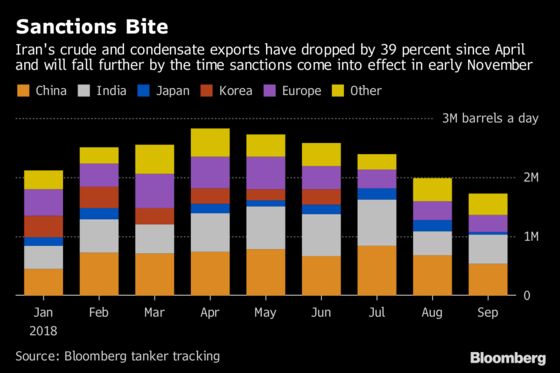 Importers of Iranian oil have been quick to heed U.S. President Donald Trump's desire to bring the nation's oil exports to zero. India was said to plan no imports from Iran in November, joining other importers including South Korea and France in ceasing to buy Iranian oil. With sanctions due to resume on November 4, the sharp drop off in supply from the Persian Gulf state has helped benchmark Brent crude oil prices to surge above $80 a barrel.
"Many buyers are reducing to zero, or something close to that," said Michael Poulsen, an analyst at A/S Global Risk Management. "Even India, which has quite an appetite for oil, has reduced significantly -- it's not something that's going to change up until the deadline of November 4."
The tracked shipments exclude volumes held on tankers that remain close to Iran's export terminals, after the nation resorted to storing some of its barrels at sea last month. Some vessels also stopped appearing on global satellite tracking systems last month and those weren't counted either.
France, the Netherlands and South Korea were the three buyers of Iranian oil not to take any barrels last month. Declines were also observed in flows to Italy and the United Arab Emirates.
Crude and condensate shipments are now down 1.1 million barrels a day, or 39 percent, from April -- the final month before Trump pulled the U.S. out of the Iran nuclear deal. Commerzbank AG analysts including Eugen Weinberg wrote in a report on Monday that Iranian oil exports risk falling by 2 million barrels a day.