Iran's Oil Exports Slump to 2 1/2 Year Low Before U.S. Sanctions
(Bloomberg) -- Iran's oil exports are tumbling again as the country's key buyers in Asia take fewer cargoes in the weeks before U.S. sanctions take full effect.
The Persian Gulf nation shipped just under 2.1 million barrels a day of crude and condensates in August, ship-tracking data compiled by Bloomberg show. That's the lowest since March 2016. Observed crude flows were the weakest since January.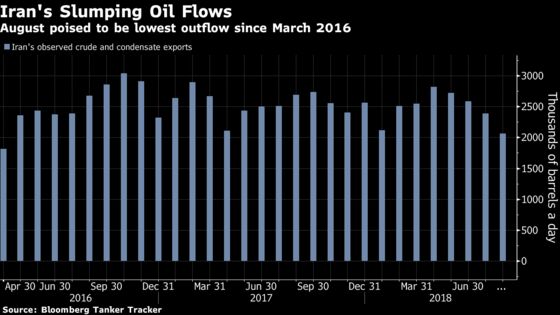 Pressure is growing on buyers of the country's crude after U.S. President Donald Trump announced in May that sanctions would be fully reimposed from Nov. 4. Iran, facing the risk of declining sales of its biggest export, will try to close the Strait of Hormuz, a vital conduit for Middle East shipments, if its own flows are blockaded, a top military official said.
"We still have two months to go before November 4 and we expect to see further decreases in shipments to OECD Asia, Europe and India," said Michael Tran, analyst at RBC Capital Markets, adding he anticipates Iran deepening discounts for its crude to find buyers.
Total flows of crude and condensate, a super-light refinery feedstock that's rich in fuels like gasoline, slumped to the three main Asian destinations: China, India and Japan. In total, there are 1.1 million barrels headed to the those nations, down from 1.8 million in July.
Destination
August
Thousands of b/d
July

China
581
839
India
376
787
Japan
118
183
Total
1,075
1,809
Flows to Europe increased slightly, reaching 355,000 barrels a day in August compared with 323,000 in July. Observed deliveries to Turkey dipped slightly.
In total, crude and condensate shipments slumped by 755,000 barrels a day since April, the month before Trump announced the re-imposition of sanctions.
Final observed flows will be subject to some revision because not all the destinations are known yet for every vessel that was observed leaving Iran in August.
Iran's exports and oil production collapsed in 2012 after Barack Obama, then U.S. President, led a global coalition to curb purchases to try and force the Persian country into restricting its nuclear program.
While more buyer countries have been less publicly supportive of Trump this time around, it appears many are still cutting back anyway. Countries that flout the U.S. measures risk having their banks excluded from the American financial system. Global ship insurers have also said it's becoming more difficult to cover vessels involved in the Iranian oil trade.
While Iran's sales are dropping, those from Saudi Arabia and Russia are compensating, said Olivier Jakob, an analyst at Petromatrix GmbH.
"There is some potential for further replacement if the exports from Iran continue to decline, and they should move lower," he said.