Iran Flashpoint Confronts Investors With Unpriceable 2020 Risks
(Bloomberg) -- Investors have barely set foot in the new year before getting their first reminder of the risks -- the existential and the more-manageable -- that could derail their plans for 2020.
The U.S. airstrike that killed one of Iran's most powerful generals raised security alerts around the world, and added to anxieties that could dominate markets this year. Money managers blindsided by the 2016 Brexit vote and U.S. President Donald Trump's election know the price of ignoring politics. Uncertainties stemming from these events are still unresolved -- trade relationships between the U.K. and European Union, and the U.S. and China still hang in the balance -- and other risks are emerging.
The currency of Latin America's richest country Chile slumped to a record low amid protests against inequality, and budget turmoil sets an ominous tone in Italian debt markets. China's slowing economy coupled with fears of violence in Hong Kong only add to worries of a global recession.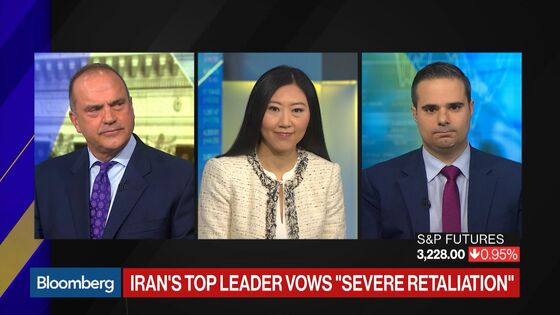 Oil prices jumped almost 5% at one point on the expected escalation in U.S.-Iran hostilities. That might shake investors out of what DWS's Greg Staples describes as a "very consensus, placid" set of forecasts about 2020, with central banks seen largely on hold and benchmark yields rangebound.
"What that means is if there's going to be anything that's going to impact the market and make it move around, it's going to be geopolitical, particularly in an election year," said Staples, who's co-head of fixed income at DWS Group in New York.
The market reaction to these kind of events underscores the difficulty traders can have in quantifying and pricing in risks. Investors' bid for haven assets sent 10-year Treasury yields down by as much as 8 basis points at one point. But that was smaller than the intraday move on Oct. 31 following poor U.S. manufacturing data, and the rate held solidly above lows from recent months. U.S. stocks took a hit, but they're on track for their worst performance since only Monday.
The 2020 U.S. presidential race is a focal point but the investment themes are global. Centrist politics continue to be worn down, giving way to both the left and and the right, bringing populist and nationalist ideas to the forefront. And while investors may feel increasingly compelled to position for these risks, the tools to price them are lacking, according to Priya Misra, rates strategist at TD Securities.
"Polls or betting odds aren't doing the best job predicting outcomes," Misra said. "We've all learned from the past few years to take them with a pinch of salt, so that should reduce investor confidence in the market's ability to price these risks properly."
The latest tensions around Iran could scupper positioning for strengthening U.S. growth, which had been gaining traction in recent weeks.
"A sharp spike in oil can short-circuit the manufacturing recovery, but a gradual oil upside is good for U.S. capex and global growth," said Nader Naeimi, head of dynamic markets at AMP Capital Investors Ltd. in Sydney. He was interviewed before the airstrike.
While investors have always grappled with unknowables, a panel of investment titans at the recent Bloomberg Global Business Forum agreed that politics can surpass anything the economy throws at markets this year. Leaders of Goldman Sachs Group Inc., Blackstone Group Inc, and UBS Group AG ranked insecurity on the geopolitical front at the top of their list of concerns.
"I don't think the biggest risks are related to the economy," said Goldman's Chief Executive Officer David Solomon. "There is a lot of uncertainty around the political landscape, which can cause businesses to hesitate on investment decisions."
BlackRock's answer to the scarcity of risk-assessment tools was to enlist the help of former President Barack Obama's national security advisor, Thomas Donilon, to build a geopolitical risk monitor. With Donilon as its chair, the BlackRock Investment Institute publishes regular updates of its risk dashboard, which gauges which threats are underpriced by the market. As of December, European fragmentation had climbed to second spot.
James Athey at Aberdeen Asset Management Plc sees more drama over budgets and social unrest creating "another incredibly difficult year."
"EU-wide politics all appear to be getting more not less fractious and the ECB is tapped out," Athey said. He's positioning for Italian yields to rise if European growth strengthens -- and also if it slumps, which would reignite debt sustainability fears.
"Either way, Italian yields shouldn't be falling."
Beyond Europe, though, Athey said the risks on the world stage are more likely to check his strategies than to present opportunities.
"Politics is notoriously difficult," he said. "So where there are large and difficult-to-assess political risks it is more likely that we would refrain from taking positions as opposed to specifically positioning."
For Stuart Ritson, emerging-markets bond fund manager at Aviva Investors Asia Pte, that means giving the U.S.-China trade dispute a wide berth. He's putting more chips on Russia, where he sees interest rates headed lower and a cheap currency.
But Ritson's among those willing to venture into political hotspots in Latin America, where he sees social unrest pushing Chile's market to extremes. He's betting on a flatter curve there as the currency's slump makes further rate cuts less likely.
"Given that the peso has been under so much pressure, we don't think the central bank has much ability to cut rates any more," Ritson said.
The biggest challenge for investors combines all of the above: An existential threat lacking in both pricing tools and clarity on the path ahead. Awareness about climate change has reached a tipping point, said Elaine Stokes, fixed income portfolio manager at Loomis Sayles & Co., and the market will increasingly punish companies that aren't tackling their role in it.
"People are investing with a climate lens so if you're a company that's a bad actor, you're going to do worse in the long run," she said.
From the longer-run strategic outlook to the sudden shocks, Staples points out that investors have always grappled with unknowables. He's staying neutral on U.S. rates as the opening salvos of the new year resolve into a clearer picture.
"There's stuff you can know with your analytics, you can do all your homework, but then there are things can come out of left field," Staples said. "This sort of thing can happen any time -- nobody anticipated it happening overnight on the second day of 2020."