U.S. Cites Productive Steps, No Breakthrough in Iran Talks
(Bloomberg) -- An initial round of talks in Vienna over Iran's nuclear program was a good first step but the Islamic Republic still hasn't shown it's willing to do what's necessary to come back into compliance with a 2015 agreement, a senior U.S. official told reporters Friday.
The official, offering the most detailed U.S. readout of the indirect talks, said the two sides are headed toward an impasse if Iran sticks to its demand that the U.S. lift all sanctions imposed since 2017, when former President Donald Trump took office and started ratcheting up pressure. The official spoke to reporters on condition of anonymity.
The remarks offered a mixed assessment of the discussions, which are scheduled to continue in Vienna next week. The official said the U.S. saw some signs -- but not enough -- that Iran was willing to come back into compliance with the 2015 agreement, which capped Iranian nuclear activities in return for sanctions relief. Trump withdrew from the accord in 2018, and Iran later began enriching uranium beyond agreed-upon limits.
The official offered an olive branch, saying the Biden administration is prepared to lift some of the non-nuclear sanctions imposed by Trump. Those restrictions were imposed, in part, to make it harder for a successive U.S. administration to get back into the nuclear deal.
While negotiators in Austria this week didn't ultimately possess the authority to make decisions needed to resuscitate the 2015 agreement, Iran is willing "to continue serious discussions" as long as the other side is too, its lead envoy, Abbas Araghchi, said in a statement.
"We're on the right path. Good efforts were made by both groups ... We have a better understanding of each other's positions," the state-run Islamic Republic News Agency on Saturday cited Araghchi as saying. "There's a long way to go but we're not yet at a point to decide what sanctions should be lifted or what measures taken."
Other participants at the Vienna talks, including Russian International Atomic Energy Agency Ambassador Mikhail Ulyanov, said progress was made. Enrique Mora, the European Union diplomat who convened the meeting, said next week's talks would be even more intensive.
There have been no direct contacts between Iranian and U.S. envoys so far in Vienna, but Iran said discussions moved on to how to remove American sanctions imposed after Trump abandoned the accord in 2018. That's probably only possible if Tehran dials back its enrichment to within limits set six years ago.
"It seems the U.S. and Iran have broad understandings on a return to the deal," said Tariq Rauf, the IAEA's former top policy adviser. "But final compromises and agreement would require ministerial-level engagement."
There were other signs of detente, with Iran releasing a South Korean chemicals tanker it seized three months ago and which quickly became embroiled in the West's broader dispute with Iran.
The U.S. official, however, denied the release of the tanker was connected to the talks.
Swirling tensions with Tehran since Trump reimposed sanctions, including on oil exports, sparked a series of maritime confrontations in the Persian Gulf and raised concerns over another Mideast conflict.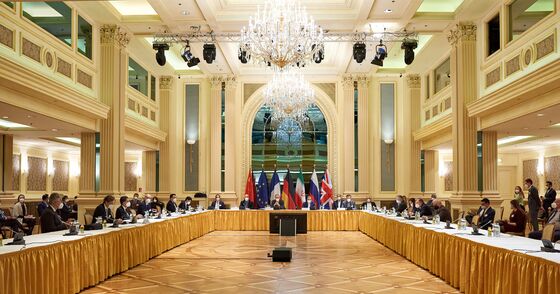 The meetings on Friday also included China, the European Union, Russia and the U.K. Direct future engagement by ministers including Iranian Foreign Minister Mohammad Javad Zarif and U.S. Secretary of State Antony Blinken would be tangible evidence talks have advanced.
The Eurasia Group sees a rising possibility that the nuclear deal could be revived before the third quarter based on the "cautiously positive momentum in the early discussions," analyst Henry Rome wrote in a note.
Iran's chief negotiator said on Thursday the sides were focusing on removing U.S. sanctions in a single step, in a statement of progress that didn't specify what Tehran was offering in return.
"We are negotiating the removal of sanctions all at once, specifying which sanctions and how, their details. All of these have to be precisely clarified," Araghchi said.
In Washington, State Department spokesman Ned Price declined to respond directly to the Iranian claim but said the Biden administration's position remains that the U.S. will remove sanctions only after Iran returns to compliance with the nuclear deal.