IPOs Amid a Global Rout: Thailand Bags $2 Billion in October
(Bloomberg) -- Investors are snapping up first-time share sales in Thailand despite the rout in global equity markets.
In October alone, Thai firms and the country's government raised $1.95 billion through initial public offerings, the most for a single month since 2013, according to data compiled by Bloomberg. That's even as the equity rout derails listings around the world, from Spain to Hong Kong to India.
"You have a huge amount of local liquidity that is chasing every single penny of return," Tibor Pandi, Citigroup Inc.'s country head for Thailand, said in an interview in Bangkok. "That has created a local microcosm for IPOs and local bonds -- kind of a universe for themselves."
Thai financial markets have been comparatively resilient due to factors such as economic expansion and a current-account surplus, according to DBS Group Holdings Ltd. The Bank of Thailand has skirted a global wave of monetary-policy tightening, keeping interest rates close to a record low to support the economy. It predicts growth of more than 4 percent this year and in 2019.
Osotspa Pcl, maker of the most popular energy drink in Thailand, raised $484 million after pricing at the top end of a marketed range, Bloomberg-compiled data show. The stock surged as much as 20 percent on its trading debut last week but has since slipped below its offer price.
Thailand Future Fund, which will finance infrastructure projects, said this week it raised 44.7 billion baht ($1.4 billion) for its IPO, with almost all of the units sold to retail and local institutional investors.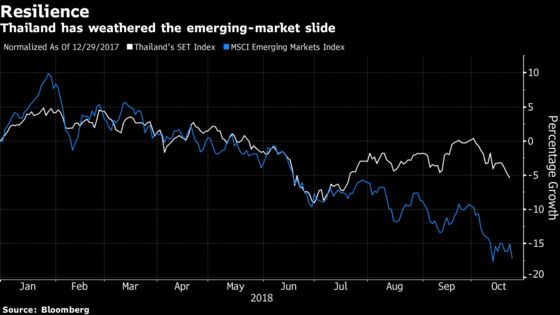 Within Southeast Asia, only companies in Vietnam have raised more through IPOs this year, though Vietnam's two biggest offerings -- from a bank and a property developer -- took place in the first half, according to data compiled by Bloomberg.
"Thailand's IPO market remains a bright spot in the region," said Vineet Mishra, JPMorgan Chase & Co.'s head of Southeast Asia equity capital markets in Singapore. "Despite turning cautious on many of the emerging markets, foreign investors continue to actively participate in select Thai equity offerings."
The same can't be said for the Thai stock market as a whole: foreign investors have pulled out a net $8 billion this year, while pouring $7.6 billion into bonds. Local buyers have helped to limit the drop in the benchmark SET equity index to 6.5 percent in 2018, less than the 17 percent slide in the MSCI Emerging Markets index.
The momentum in IPOs should carry on to next year, with a number of large Thai companies planning listings, said Manpong Senanarong, the head of the issuer marketing unit at the Stock Exchange of Thailand. There's a "huge amount" of demand from local mutual funds, pension funds and individuals for new stocks, he said.
For 2019, big offerings are already in the works. State-owned energy giant PTT Pcl is planning an IPO of its retail oil business. Thailand's richest man Charoen Sirivadhanabhakdi is considering an IPO of a domestic property business that could raise at least $1.5 billion. One of the country's biggest conglomerates, Central Group, is studying options including a potential listing of retail assets, people with knowledge of the matter have said.
"Despite global and local market volatility, we still see strong preference for quality papers from Thailand," said Anuwat Ruamsuke, head of capital markets at Phatra Securities Pcl in Bangkok. Local Thai funds "need to put money to work," Anuwat said.