M&A Darling Iovance Tumbles on Drug Delay and CEO Departure
(Bloomberg) -- Iovance Biotherapeutics Inc. plunged 39% Wednesday as its chief executive resigned just hours after the biotech company announced the delay of its lead experimental medicine.
The stock had its biggest drop since June 2013 and trading in Iovance was halted briefly after disclosing the abrupt departure of Maria Fardis, who has led the company since 2016. Iovance said in a Securities and Exchange Commission filing that Fardis was leaving to pursue other opportunities and its general counsel, Frederick G. Vogt, would serve in her role while a replacement was found.
The company didn't respond to requests seeking further comment on the CEO's departure.
Late Tuesday, Iovance said a regulatory filing for its most-watched asset lifileucel, an experimental medicine for a deadly skin cancer, would be delayed until next year from 2021. Its shares started plummeting on news of the delay, then dropped further on the CEO's resignation.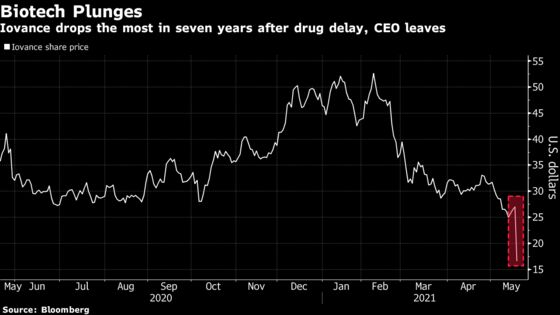 Iovance has been a frequent pick on analysts' M&A target lists, and before today 13 of the 14 analysts covering the company rated it the equivalent of a buy, with only one analyst recommending investors just hold on to the stock. Stifel and JMP analysts both dropped their ratings to the equivalent of a hold on Wednesday.
"We don't expect clarity on the situation anytime soon," Stifel's Benjamin Burnett wrote in a note to clients. "The abrupt departure of the CEO during what was already a sensitive situation adds too much hair to recommend shares."
Burnett says the chances of success for Iovance's drug -- which belongs to a new class of immunotherapy medicines known as tumor infiltrating lymphocytes, or TILS, a special immune cell that attacks cancer cells -- is now a coin flip. A competing drug developer, Instil Bio Inc., fell 15%, the biggest drop ever for the company, which went public in March.
The plunge may also be another hit for Iovance's top holder Cathie Wood's ARK Investment Management, which has seen heavy outflows from its funds as investors turn toward less-risky assets.