Investors Move Downmarket Seeking Juicier U.K. Property Returns
(Bloomberg) -- U.K. landlords are heading downmarket.
Battered by tax hikes, real estate investors are seeking out cheaper homes in the north of England that incur lower stamp duty and offer higher returns than properties in other parts of the country. If they're buying at all.
The latest investment figures show that landlords spent 30 percent less in the first half than in the same period in 2015, before the stamp-duty increases were announced, according to data compiled by Hamptons International. Declines in pricier areas, such as London and southeast England, were even more pronounced.
The shift toward cheaper areas could create a "risk for the future" because they're more vulnerable in a downturn, according to Aneisha Beveridge, head of research at the firm. Demand for rental properties has traditionally been higher in London because of a lack of affordable homes for sale and the city's younger and more mobile population, she said in an interview.
A sales-tax surcharge on second home owners and landlords introduced in 2016 compounded plans to phase out tax relief on mortgage payments unveiled by former chancellor George Osborne in 2015. That, together with a gloomier outlook for the U.K.'s housing market after years of rapid growth in London and the south east, has driven the total value of homes bought by landlords to a five-year low.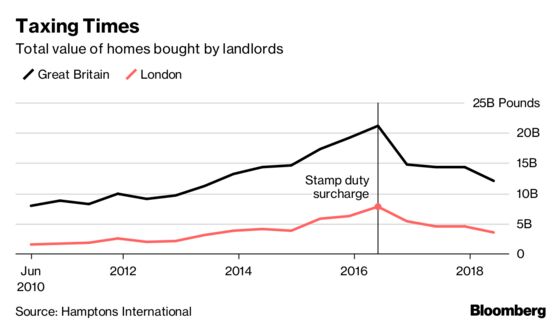 The tax hike on landlords with mortgages has also encouraged more investors to focus on achieving the highest rental yields possible, rather than betting on cities like London that have seen the largest and most consistent price rises in recent decades, Beveridge said. Rents across Britain rose 1.6 percent in the year through September to 980 pounds a month, the Hamptons data show.
The average price of a home bought by a landlord in the first half of 2018 was 174,580 pounds, down 4 percent from a year earlier. Compared with the peak of the buy-to-let market in 2016, values are down 7 percent. In total, 12.1 billion pounds of homes were bought by landlords in the six months through June, down from a record 21.2 billion pounds two years earlier.