Fish Oil Company's 590% Boom Turns Investor Focus to Earnings Comments
(Bloomberg) -- Investors that helped fuel Amarin Corp.'s vertical leap to a market value of more than $6 billion from $886 million will tune into the company's earnings results on Thursday ahead of highly anticipated data later in November.
Management will likely face questions on the earnings call related to plans of building out a sales force and the means of funding such an expansion to help promote Vascepa, a purified fish oil that's been shown to reduce heart risks. Comments from the executives will be closely watched by investors trying to gauge takeout potential for the company, according Citi analyst Joel Beatty.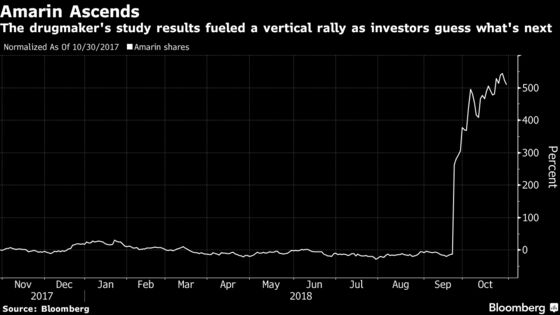 "Any commentary by management related to whether the company is going to be extending their salesforce and the timing for that will be something investors are paying attention to," Beatty said in a telephone interview. Either "would be seen by investors that an acquisition of Amarin is less likely in the near-term which could lead to some downside in the stock price," he continued.
While options expiring on November 2 imply a move of 10 percent in the shares the day after earnings, the at-the-money straddle expiring November 16, which will capture its data presentation at the American Heart Association annual meeting, is currently pricing in a move of almost 36 percent.
Amarin has indicated it plans to boost its U.S. sales representatives to about 400 from about 150 currently, in response to positive data from a long-term study of Vascepa that sent Amarin's stock up six-fold. Beatty and analysts have noted in the past that plans to market the drug more aggressively would benefit from a larger, more established drugmaker as the company had a cash balance of just over $100 million as of June 30.
The primary investor focus at the "Reduce-It" presentation at the American Heart Association annual meeting on November 10 will be on Vascepa's broad benefits and whether its safety is enough for primary care doctors to embrace prescribing it, Beatty wrote in an October 16 note.
3Q Vascepa sales estimate $60.3 million (range $58.0 million to $63.5 million)
3Q adjusted loss per share estimate 10c (range loss/share 9c to 11c)
5 buys, 0 holds, 0 sells; average price target $22 (6.2% upside from current price)
Shares up 594% since Sept. 21 vs SPX Index down 8.4%
Earnings release expected Nov. 1
Call 7:30am (NY time), 877-407-8033 password: 38108