Investors Hunt for Biotech Winners as Wider Stock Market Churns
(Bloomberg) -- Biotechnology stocks have helped lead the market lower recently, but investors still appear eager to dabble in some of the industry's riskiest prospects.
Since hitting a 52-week high on Oct. 1, the Nasdaq Biotechnology Index, the broadest gauge of the industry's performance, has fallen more than 6.5 percent. Fears that higher interest rates and heightened global trade tensions could harm corporate profits have caused a wider pullback from stocks, with the S&P 500 Index dropping 5.3 percent in the same period.
On top of the economic and political anxieties pushing the market lower, many large biotech companies had already been dragged down by the Trump administration's campaign to lower drug prices, as well as fears that companies like Celgene Corp. and Gilead Sciences Inc. lack clear successors for older blockbusters that will face cheaper competitors in coming years.
Celgene and other large biotechs like Biogen Inc. and Vertex Pharmaceuticals Inc. have led the Nasdaq index lower in recent weeks. Those companies, as well as industry giant Amgen Inc., are scheduled to report quarterly results this month.
There had been earlier signs that biotech investors were discriminating, snapping up shares of buzzed-about upstarts while shying away from the older standbys. The Nasdaq biotech gauge reached its apex in 2015 -- but didn't top that mark this year even as the broader market hit records. Meanwhile, the S&P Biotechnology Select Industry Index, which includes many smaller firms, hit a record in June and rose 13 percent in the first nine months of the year.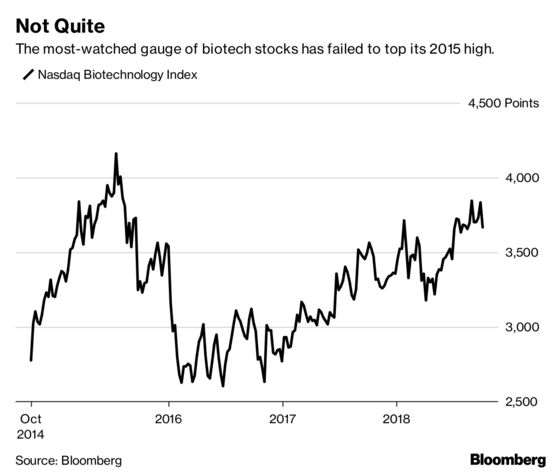 While the Nasdaq and S&P biotech indexes have declined in lockstep this month, investors are still on the prowl for new bets in the sector. Last week, Allogene Therapeutics Inc. soared 39 percent on its first day of trading -- the latest in a record wave of initial public offerings by biotech companies this year.
Analysts expect that investors will keep pumping funds into younger enterprises even though many are years away from bringing a drug to market.
"There's been a shift to the smaller and mid-caps over the large caps recently," said Nomura Instinet analyst Christopher Marai. "There is a pretty big difference between the two based on this larger-cap underperformance."
Indeed, the lure of picking a biotech winner still appears to be an enticing prospect. In the week ending Oct. 10, investors poured $674 million into health-care funds tracked by Piper Jaffray analyst Christopher Raymond, marking inflows in 13 of past 14 weeks. In the previous week, investors put $1.25 billion into biotechnology and health-care funds, the largest one-week infusion in more than a year.
More and more companies have been trying to tap into that geyser of cash. Forty-five drug startups have conducted initial public offerings this year on U.S. exchanges through Oct. 18, raising more than $5 billion, near the all-time record of $5.2 billion in 2000.
The average gain among companies that have gone public this year is 3.5 percent, according to Bloomberg data. Along with Allogene, standouts include Allakos Inc. and Solid Biosciences Inc., which have each more than doubled since their debuts. But not all IPOs have fared as well. Rubius Therapeutics Inc., the second-largest biotech to sell shares this year after Allogene, has declined more than 25 percent since it began trading in July.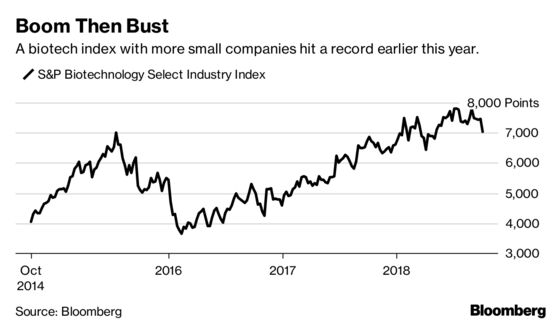 Established biotechs like Celgene and Gilead have had a difficult time convincing investors that significant growth is on the horizon. Celgene has tried to calm fears that it lacks a followup to top-selling cancer treatment Revlimid, while Gilead has struggled with threats to its once-dominant HIV and Hepatitis C treatments.
Celgene and Gilead declined to comment.
The Trump administration's drive to lower prescription-drug costs has also limited the room companies have to maneuver. This year, amid administration pressure, many drugmakers canceled planned price increases or vowed to limit future increases to the inflation rate. Gilead said in September that it would sell cheaper generic versions of its hepatitis C drugs, which were once at the center of the pricing debate.
"Biopharma companies are taking a more conservative approach to pricing," said Adnan Butt, analyst at Guggenheim Securities. "Investors have now come to expect a different strategy."
With earnings season kicking into high gear, investors will be watching for signs that big-cap biotechs have found a way to address their woes. Younger firms now awash in investor cash may also be watching a cautionary tale unfold.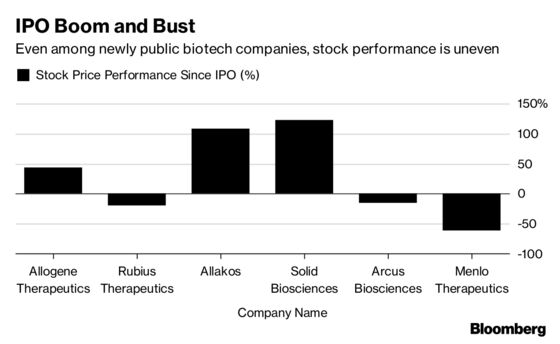 Despite the recent jump in fund flows, Piper Jaffray's Raymond warned investors to "enjoy it while it lasts," suggesting that the rush of new money could ebb if the wider decline in stock prices persists.
Nevertheless, there are those on Wall Street who believe that investors will continue to look at biotech as a place to pick winners and losers away from the broader market's gravitational field. Oppenheimer's Hartaj Singh said that with many larger biotech companies trading at a discount to the broader market, money could continue flooding into the sector.
"The fund flows for large-cap biotech are going to stay positive and I have no doubt about that," Singh said. "But the key thing to watch going into year-end is if the recent bounce will hold."