Investors Come Back for More After 34% Russian Bond Returns
(Bloomberg) -- Investors who took home 34% returns on Russian local-currency bonds last year are increasing their bullish bets after Central Bank Governor Elvira Nabiullina signaled more rate cuts.
Ten-year yields fell below 6% for the first time in at least a decade this week as money managers topped up the $16 billion they poured into the market last year. High demand at weekly bond auctions allowed the Finance Ministry to post its biggest sale since May last week.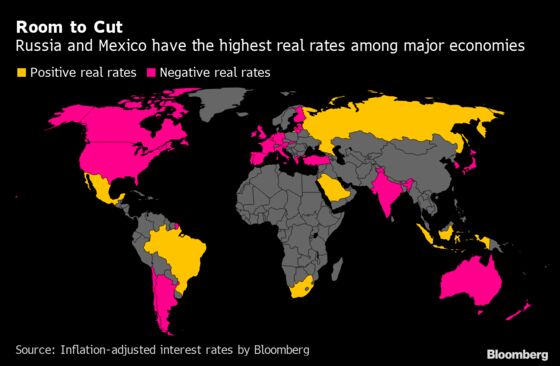 Nabiullina delivered a sixth consecutive interest rate cut earlier this month and signaled that she is willing to ease monetary policy below the 6%-7% range the central bank had previously said it was aiming for. Economists at Goldman Sachs Group Inc., Nordea Bank and Renaissance Capital say they now expect at least 50 basis points of further reductions this year.
"The dovish shift in the monetary policy stance" is "the primary driver" of the bond rally, said ING economist Dmitry Dolgin. "Previously expectations of the key rate dropping below 6% were considered optimistic, now the 5.5% floor is seen as the base case."
Even after 175 basis points of easing in the past year, Russia's real interest rates are still among the highest in emerging markets. Annual inflation slowed for a 10th straight month to 2.4% in January, well below the central bank's 4% target.
A renewed threat of U.S. sanctions this week wasn't enough to dent demand, with bonds now heading for a third consecutive weekly rally. The penalties targeted only a subsidiary of Russia's biggest oil company, Rosneft, so had limited economic impact, but a report by the Institute of International Finance published a day later warned that a proposal to sanction local-currency debt is still on the table in Washington.
Increased foreign purchases of ruble bonds are helping to prop up the currency amid a slump in oil prices so far this year, analysts at PJSC Raiffeisenbank in Moscow wrote in a research note. The ruble has weakened about 3.4% against the dollar this year, compared to an 11% slump in Brent crude, the country's main export earner.
Yields "can go still lower," said Paul McNamara, a fund manager at GAM Investment Management in London who has a long position on Russian bonds. The global spread of coronavirus will hurt global growth, which is "likely to be good for rates globally," he said.