Investment Slowdown May Be Euro Area's Next Economic Headache
(Bloomberg) -- Here's yet another sign that the slowdown in the euro-area economy may be more than just a temporary blip: Investment spending is grinding to a halt.
A short-term indicator of gross fixed-capital formation in the region, developed by Natixis economist Dirk Schumacher, shows a "clear loss of momentum." This comes as the overall expansion slowed to 0.2 percent in the third quarter, with sluggish consumer confidence suggesting a rebound may not be on the cards.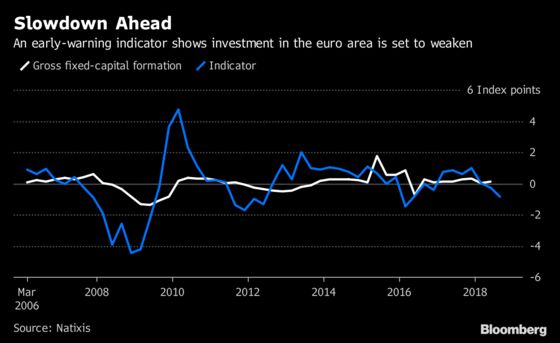 So far, policy makers have been sanguine about the region's economic health. European Central Bank President Mario Draghi said there was no slowdown, merely a loss of momentum, and his Governing Council colleague Jens Weidmann predicts a rebound of Germany's growth after a car-related stagnation in the three months through September.
But with risks from trade disputes to Italy's budget weighing on confidence, companies may be reluctant to sink money into new machinery, potentially signaling more trouble ahead.