A $3.7 Billion Property Flop Shows the Price of Brexit
(Bloomberg Opinion) -- You can't invest in Britain right now. That seems to be the message from the country's latest collapsed takeover bid.
Intu Properties Plc's business is U.K. regional shopping malls, words that strike fear into investors and act as a potent deterrent to writing a check. Frustrated with the weak stock price, Intu's lead shareholder, property magnate John Whittaker, joined with Saudi investor Olayan Group and outsider Brookfield Property Group LLC to work on a buyout. A 2.9 billion pound ($3.7 billion) price tag was agreed to open the books. After weeks of due diligence, the consortium has changed its mind.
A deal would have addressed Intu's pressing problems: The absence of a permanent CEO and too much leverage. Whatever the board thought of the price – a 29 percent discount to the relevant European measure of the company's net assets as of Sept. 30 – they knew investors wanted the opportunity to get out. Now Intu is being forced to do self-help. The dividend is being cut, the search for new leadership continues. The shares, at 129 pence, have plunged to trade at a 57 percent discount to net assets.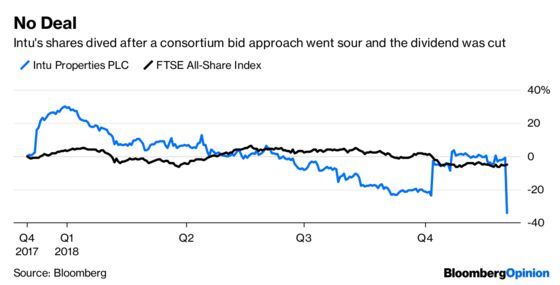 It's a terrible advert for investing in Britain. Whittaker, a board member, didn't need to do due diligence. Brookfield has a reputation for being a savvy, counter-cyclical investor. Yet still it couldn't get comfortable.
On Wednesday, the Bank of England warned of bad economic outcomes from the U.K. government's Brexit deal or from leaving the EU with no agreement whatsoever. Brookfield's statement says market volatility meant it couldn't close a deal within the U.K. takeover timetable. Intu counters that the consortium said only last week that nothing had surfaced to alter the price. It's hard to reconcile the two statements.
It looks like the increasing noise around Brexit required a savage price cut to make the deal worth the risk, or a delay until there was clarity on the U.K.'s destiny. That would have required more negotiations, which would have been farcical after previous extensions.
For the property sector, the episode sounds a warning over the business model of real estate investment trusts. REITs pay out almost all their recurring income in dividends, funding investment through disposals. Leverage is high; Intu's loan-to-value ratio is about 50 percent. That's fine in a rising market. But right now, Intu can't sell its assets at good prices. Hence shareholder payouts must be sacrificed to the necessary work of converting moribund retail sites for alternative uses such as housing or leisure. 
Intu's business is at the epicenter of worries about the British economy, whether from a bad Brexit scenario or a shift in government policy under a left-wing Labour government. In this environment, a bid for any U.K. domestic business is probably going to be laughed out of the room by the investment committee of a foreign company or private equity firm.
This column does not necessarily reflect the opinion of the editorial board or Bloomberg LP and its owners.
Chris Hughes is a Bloomberg Opinion columnist covering deals. He previously worked for Reuters Breakingviews, as well as the Financial Times and the Independent newspaper.