Introducing the New Crop of Hedge Fund Hidden Gems: Taking Stock
(Bloomberg) -- One of the big takeaways from the 13Fs is that a boatload of funds had the premonition to pare or exit their positions in large-cap tech during the third quarter, or just before the market rout began in October.
Sorting by changes in aggregated market value, some of the largest sell-offs came in the GICS-revamped Communication Services sector (down 0.6% quarter-over-quarter for the largest decline among all groups, as the graphic below shows), particularly for two members of the FAANG complex (Facebook and Alphabet), Twitter, Baidu, and Zillow.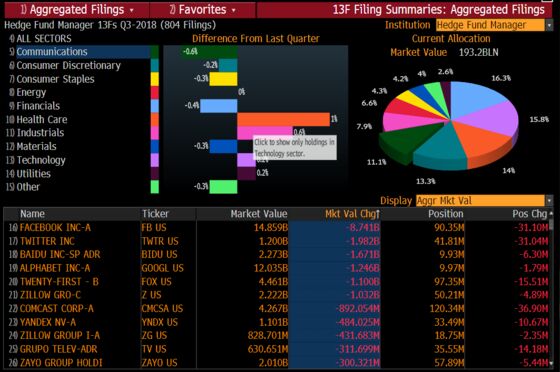 There clearly were those who did the opposite and instead got "Whale Rocked" (held a lot of tech or loaded up in the sector just before said rout), like Melvin Capital taking new stakes in Netflix and Spotify (both ~4% of the fund's portfolio, respectively) or Lone Pine loading up on more Alibaba, Adobe, Microsoft, and Alphabet. But some of the big tech position boosts that I noticed were partially, or even completely, offset by exits in the FAANGs and other notable momentum names, so overall it actually does appear that a lot of hedgies may have bailed just in time.
But now for the bad news, as it looks like some funds may have gotten sideswiped by a pair of massive equity blowups that remain in limbo. For example, Viking Global got larger while Canyon Capital bought into General Electric prior to its latest downward spiral. Meanwhile, Baupost, Hound Partners, BlueMountain, Appaloosa, and Viking again (yikes) held sizable positions in California's biggest utility, PG&E, a month and a half before the company fell into full-blown crisis mode because of the wildfires.
Click here to see our massive 13F wrap of new stakes, exits, boosted and sold positions during the third quarter for more than 50 funds.
Now for the nitty gritty, where a deep dive into the individual filings can shine a light on those small- and mid-cap companies that hedge funds have decided to collectively plow into, like last quarter with MongoDB and Carvana (up 64% and up 42% in the third quarter, respectively) or the prior period with Intelsat and Bilibili (up 343% and 27% in the second quarter, respectively).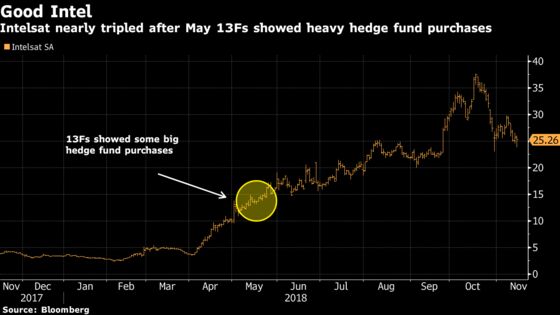 One group of stocks that I strip out are those with any sort of M&A involvement, given how risk-arbitrage funds tend to flock to those, and I try to dismiss stake changes from the quants given their quick trigger algo-driven movements, but the rest is pretty much fair game. And so without further ado, I give you the new crop of hedge fund hotels:
Twilio (TWLO), the $8.3 billion market cap cloud-computing company whose recent blowout earnings drew comparisons to Salesforce circa 2007, continues to get backing from the buy side, with ~18% of its outstanding shares now held by hedge funds, according to our data. Just in the past quarter, Tiger Global took a new ~1 million share stake, Whale Rock (ye of "Whale Rocked" fame) upped its position by nearly a million, and Foxhaven Asset Management bumped theirs up and now holds close to a 4% stake. I'd note that the sell side is also gushing over this name, with 19 of 20 analysts rating this one a buy (and many have been dead right for a while, if you look at the chart below).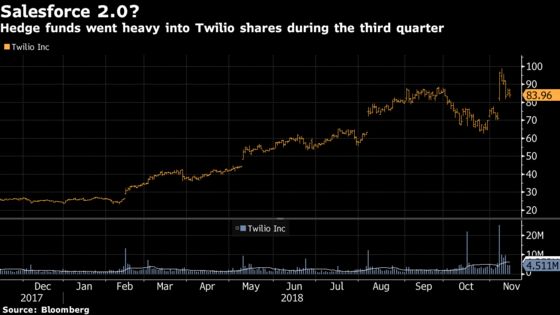 SVMK (SVMK), AKA SurveyMonkey, and Eventbrite (EB), are two relatively well-known Internet companies that went public at a fairly inopportune time, pretty much right before the market melted down in October. But both stocks popped and have held up relatively well versus the rest of the group, and their 13Fs most certainly jump out for the overwhelming and immediate ownership from hedge funds -- similar to what we saw with Bilibili after the March IPO, as mentioned above.
For SVMK, we knew Tiger Global was the top holder with ~30 million shares from the S-1, but we didn't know that Soros, Jana, Alyeska, Oxford Asset, and Thorntree Capital all had positions until now
Same deal with Eventbrite, where Tiger was known to have an ~14 million share stake, but now we know Caledonia, Atika, Light Street, Foxhaven, Monashee, Alyeska, Laurion, and ArrowMark, and Whale Rock have all taken a liking
Hanger Inc. (HNGR) is a smallcap prosthetic and orthotic patient care services firm that had a massive jump in hedge fund ownership, from ~9% pre-13F to more than 20% now. A slew of investment firms that previously held no position rushed in, for instance Courage Capital took a new 6.8% stake while Tudor Investment and Cannell Capital reported 2.5% and 1.9% positions, respectively. Virtually nobody shed a share besides BlueMountain, who still came out of the third quarter with more than 6% of the shares outstanding.
Mr. Cooper (COOP) is a company I've admittedly never heard of before doing this exercise, but a quick search through the news tells me that this is the origination and servicing business of Nationstar Mortgage, the mortgage insurer that was bought out earlier this year. It's a bit difficult to immediately tell who already held or truly went large in the ~$1.3 billion market cap stock, and while it appears to be a special situation (which breaks my rule of a company involved in M&A), the fact remains that a huge chunk of the total ownership (nearly 50%!) lies with hedge funds (wait for it...) that are most definitely (almost there...) now "hangin' with" Mr. Cooper (womp womp, I know, but I had to do it...). Anyway, the names at the top of the list include Diamond Hill, Greywolf, Rubric Capital, Appaloosa, Serengeti Asset, and Centerbridge Partners.
FAANG performance may be bifurcated today, as the scathing NYT story on the inner workings of Facebook may have a harsh affect on the stock today (shockingly only down half a percent in the pre-market, likely aided by the company's response)
Hardline retailers may be volatile after a beat and raise from Walmart, which initially popped on the statement but has since faded into negative territory
Networking peers, like Juniper, after Cisco rallied ~5% on earnings
Apple suppliers after a fourth company, ams AG, cut their guidance, citing "recent demange changes from a major consumer customer"
Homebuilders are on watch after KB Home "lowered/widened several key financial forecast ranges for FY19" that was initially introduced in mid-October, according to a BofAML downgrade
Sectors that may move with earnings tonight include semis (Nvidia), semicap equipment (Applied Materials), department stores (Nordstrom), home goods (Williams-Sonoma), and packaged food (Post Holdings)
Notes From the Sell Side
Morgan Stanley's equity research department put in work last night on a host of important and interesting topics:
Katy Huberty said to buy Apple on the supply chain noise as Services and buybacks will drive future earnings; she also reassessed all tech coverage and concluded that Microsoft, Alphabet, Xilinx, and Take-Two are high conviction calls where the pullback was market-driven vs fundamental
Banks analyst Ken Zerbe screened for banks with the most exposure to energy given all of the concerns about higher credit losses tied to the plunge in oil prices; he came up with three banks that separated themselves from the rest: BOK Financial with energy accounting for 18% of overall loan portfolio, Cadence 11.2%, and Cullen/Front 11%
Yieldcos analyst Stephen Byrd said the selloffs in Clearway Energy, Atlantica, NextEra Energy Partners, and Pattern energy due to fears that contracts with PG&E may potentially be at risk are overdone
Barclays initiated on the payment processors, with 16 of the 20 newly covered companies rated overweight. PayPal is the top pick (price target $110 vs the average target of $99) while Square and Visa are also among favored names; the only underweights were MoneyGram and Western Union.
Citi visited Valero at their Texas ranch and came away positive on two overlooked value-creating projects (Port Arthur coker and Diamond Green Diesel expansion), which are seen adding $13 per share to long term value.
Tick-by-Tick Guide to Today's Actionable Events
Today -- BPMC expected to present data on avapritinib
7:00am -- WMT, BRC, MANU earnings
7:00am -- Bridgewater's Ray Dalio to appear on CNBC this morning (timing uncertain)
7:30am -- JCP earnings
8:00am -- ROK investor meeting
8:30am -- Empire Manufacturing, Retail Sales, Philly Fed, Jobless Claims
8:30am -- MMM, NMIH investor days
8:30am -- JCP earnings call
8:30am -- COLM CEO Tim Boyle on Bloomberg TV
9:00am -- NBL at BofAML Global Energy Conference
9:10am -- GM at Barclays Global Automotive Conference
9:30am -- FCE/A vote on Brookfield takeover
9:30am -- IPO to start trading post-open: Centrexion Therapeutics (CNTX)
10:00am -- Business Inventories
10:00am -- Fed's Quarles to appear before Senate banking panel
10:00am -- SSNC analyst day
10:30am -- EIA natgas storage
10:30am -- CAR at Barclays Global Automotive Conference
11:00am -- DoE oil inventories
11:00am -- QLYS investor day
11:15am -- CHK at BofAML Global Energy Conference
11:30am -- Fed's Powell reviews post-Harvey recovery efforts
1:00pm -- Fed's Bostic speaks in Madrid
1:00pm -- PFG investor day
1:25pm -- Halliburton CEO Jeff Miller on Bloomberg TV
3:00pm -- Fed's Kashkari speaks to Minnesota AgriGrowth Council
4:01pm -- AMAT earnings
4:05pm -- SMCI, SONO, JWN, SCVL, HAYN (roughly) earnings
4:10pm -- NGVC earnings
4:15pm -- WSM earnings
4:20pm -- NVDA earnings
4:20pm -- APC at BofAML Global Energy Conference
4:30pm -- AMAT earnings call
4:45pm -- JWN earnings call
5:00pm -- SONO earnings call
5:01pm -- POST earnings
5:30pm -- NVDA earnings call
8:20pm - Packers at Seahawks (-3)