Interior Department Watchdog Faults Zinke for Wife's Travel
(Bloomberg) -- Interior Secretary Ryan Zinke broke department policy by allowing his wife, Lolita, to travel with him in U.S. government vehicles, the agency's inspector general concluded in a report.
The inspector general said in the report -- which was obtained by Bloomberg News on Thursday night -- that department lawyers had approved of travel by Lolita Zinke "and other individuals" in government vehicles, in spite of Interior Department policy. The report has not been released publicly.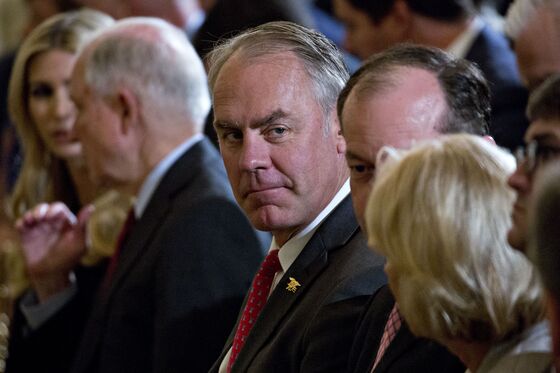 The report also said that an unarmed Interior Department security detail traveled with the couple on an August 2017 vacation to Turkey and Greece, which cost the agency $25,000. The State Department balked at providing security because of concerns that the trip was not an official one.
The decision to provide security to the Zinkes on the vacation was made by a senior U.S. Park Police official and wasn't specifically prohibited, the inspector general added.
The Zinkes have reimbursed the government for Lolita Zinke's travel expenses, according to the report, but it did not provide further details.
In addition, Zinke asked department employees to look into making Lolita Zinke a "volunteer," a designation that would have allowed her to travel at taxpayer expense, according to the report.
Zinke denied that his intention was to eliminate the requirement that the government be reimbursed for her travel -- and ultimately, she wasn't granted the status after employees advised the secretary that making her a volunteer "could be perceived negatively," the report said.
An Interior Department spokeswoman didn't immediately respond to a request for comment on Thursday night.
The report emerged as the department announced that its longtime acting inspector general, Mary Kendall, whose aggressive investigations have been a thorn in Zinke's side, would keep her job after it was reported that she might be replaced.
Her office said other allegations against Zinke -- including that he requested for a government mobile phone for his wife and told employees to walk his dog -- were unfounded. Kendall has overseen the Zinke investigations.