Intelsat Shorts Stick to Positions Even After Record 75% Wipeout
(Bloomberg) -- Short sellers are betting that Intelsat shares have further to fall even after a record slump this month erased more than 75% of the satellite company's market value.
About 15.4 million shares were on loan to bears on Tuesday, up from 15.1 million at the end of October, according to data from S3 Partners. Short sellers are sitting on more than $250 million in paper gains but don't appear to be cashing in yet, according to Ihor Dusaniwsky, S3's managing director of predictive analytics.
"As a good short seller, you ride out your profits and that's what it looks like they're doing," Dusaniwsky said. "They're holding on and looking for the stock to go down even further."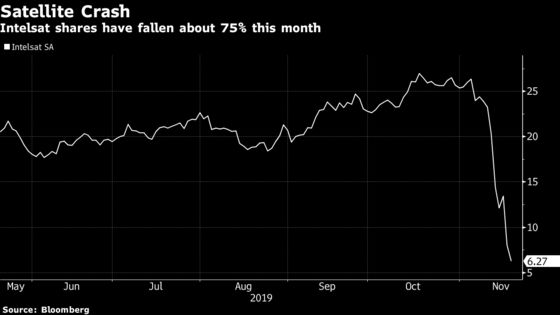 That strategy has paid off so far for bears. Intelsat has fallen 7 out of the last 8 trading sessions. The stock sank as much as 31% on Tuesday after Wall Street analysts slashed their price targets after FCC Chairman Ajit Pai rejected a plan to raise billions of dollars by selling spectrum in a private sale. Intelsat needs money to pay down its debt of more than $14 billion. A public auction could reduce its share of the proceeds.
Intelsat investors have been on a wild ride over the past year and a half, with shares rising from less than $5 in March 2018 to more than $37 by October. Much of those gains held this year as the FCC considered the proposed airwaves sale.
Even now, not everyone is bearish. Cowen analyst Lance Vitanza defended Intelsat on Tuesday, calling the sell-off an "over-reaction."
"The critical question in our view isn't 'public vs. private' but rather do we or don't we have the cooperation we need to streamline a path toward an auction in 2020," Vitanza wrote in a note to clients. "While initial reactions may have suggested otherwise, we base our investment thesis on our expectation that ultimately, cooler heads will prevail."