IntelGenx Soars With Tilray Deal Spurring Hope for Oral Film Drugs
(Bloomberg) -- IntelGenx Technologies shares are on fire after the drug company entered a deal with the roller-coaster pot stock Tilray Inc.
IntelGenx's signing of a non-binding letter of intent with Tilray to make oral film products infused with cannabis validates the potential of IntelGenx's VersaFilm platform, Maxim analyst Jason McCarthy writes in note. The shares have skyrocketed as much as 87 percent on volume almost 200 times the three-month average.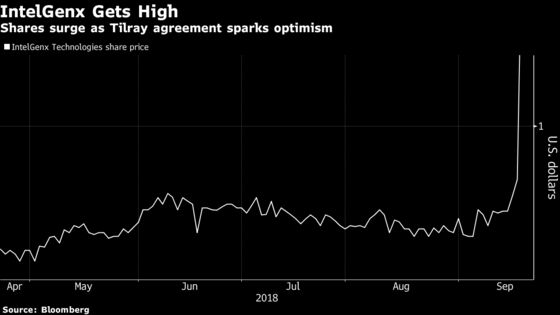 The agreement demonstrates IntelGenx's ability to attract a sizable, revenue-generating company as a partner, McCarthy wrote in a note to clients. He holds one of the company's two buy ratings according to data compiled by Bloomberg.
The mind-boggling swings in cannabis-related stocks has taken Wall Street by storm after Tilray shares fell as much as 26 percent to dent some of its meteoric rise. The cannabis cultivator has surged almost 1,000 percent since its July IPO.