Nuclear Is Big Part of Duke Energy's Carbon Plan: Summit Update
(Bloomberg) -- The first day of the two-day Bloomberg Sustainable Business Summit focused on topics ranging from the future of sustainable investing to building a more sustainable supply chain.
Speakers included chief executive officers from Schroders Plc, Intel Corp., Duke Energy Corp., Carrier Global Corp. and Archer-Daniels-Midland Co., as well as academics and executives from asset managers and companies including Walmart Inc. and PepsiCo Inc.
The Sustainable Business Summit is being organized by Bloomberg Live, a division of Bloomberg LP, the parent company of Bloomberg News. More information about the event can be found online and on the Bloomberg Terminal.
Nukes Are 'Foundational' to Duke Energy's Net-Zero Strategy, Good Says (5 p.m. NY time)
Nuclear energy is a key part of Duke Energy Corp.'s plan to eliminate carbon emissions by 2050, according to CEO Lynn Good. As the company moves to retire coal-fired power plants, it also must focus on making sure its power grid is reliable. That means adding more renewable capacity and also maintaining its existing fleet of reactors that can supply electricity around the clock.
While solar plants are increasingly paired with battery systems that can deliver electricity after the sun goes down, the technology can only retain power for a few hours. That's not going to be good enough, for example, during the winter when people need power and there hasn't been much sunshine for several days.
"Having sufficient storage for solar is a challenge," she said. "Nuclear, for Duke Energy, is a foundational resource and it is a clean resource."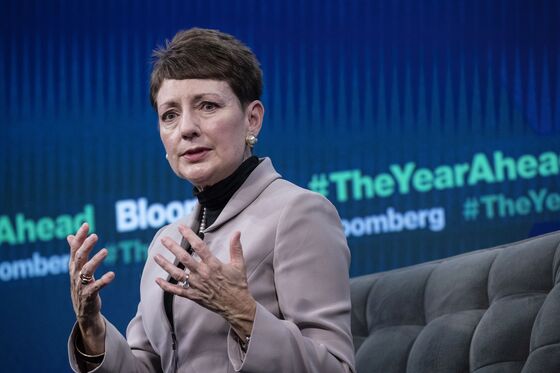 Intel CEO Says Sustainability Should Be Part of Operations (4:35 p.m. NY time)
Intel Corp. CEO Bob Swan said bringing about changes in sustainability requires that an organization have related goals built into its day-to-day operations rather than having progress measured in annual-report form.
The company, whose processors are at the heart of most of the world's computers, needs to continue to make its chips more efficient because that's what customers are demanding, he said.
In general, there's never been more demand for computing and that's been amplified by the global shift to working from home caused by the Covid-19 pandemic, Swan said.
Intel remains committed to investing in production technology that has made its products more powerful and efficient, Swan said. But that's not enough. Making combinations of different types of chips packaged together will better meet the needs of Intel's customers, he said.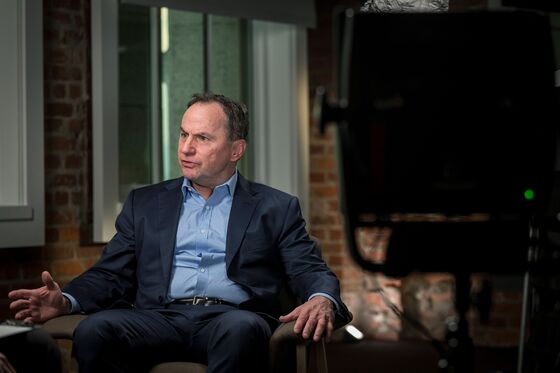 Apollo May Link Compensation to Impact Outcomes, Reiss Says (4:05 p.m. NY time)
Apollo Global Management Inc. is in the early stages of developing ways to tie compensation with the performance of its impact investments, according to Joanna Reiss, co-head of the firm's impact group.
"We feel very strongly in alignment," she said. "Having good alignment between the objectives of investors and the objectives of management teams and investment professionals is critical to good outcomes." Reiss declined to comment on specifics.
Apollo has followed other finance firms, including Two Sigma, Bain Capital LP and TPG, in starting an impact business. Reiss joined Apollo in September from private equity firm Cornell Capital.
Nations Can't Meet Net-Zero Emissions Targets Without Government Policy, EDF says (2:50 p.m. NY time)
Countries, including the U.S., won't be able to meet their net-zero carbon-emissions targets by 2050 without public policy, said Fred Krupp, president of the Environmental Defense Fund.
The environmental group is calling on businesses and non-governmental organizations to align with trade associations on targets, he said.
"The most powerful tools a company has is their political influence," Krupp said. "Having a Science-Based Target is good, but a Science-Based Target policy agenda to match is essential."
Walmart Is On Track to Meeting Emissions Avoidance Target (2:41 p.m. NY time)
Walmart Inc. is on track to cut 1 billion metric tons of emissions from its global supply chains by 2030, said Kathleen McLaughlin, the company's chief sustainability officer.
The retailer has made progress with its "Project Gigaton," which was started in 2017 to encourage suppliers to reduce their greenhouse gases through things like packaging, waste avoidance and product design, she said. Walmart has sought to democratize climate action by including both large and small suppliers in the effort, McLaughlin added.
ADM's Luciano Urges
Policymaker

s to Focus on Smarter Food Production (2:30 p.m. NY time)
Archer-Daniels-Midland Co. Chief Executive Officer Juan Luciano said how food is produced needs an overhaul as the world braces for the next surge in population growth.
Farms worldwide, many of which are family-run businesses, need incentives to invest in new methods to preserve soil and keep land fertile. Without a broader shift to sustainability, more land will be needed globally as soil degrades, Luciano said.
"We think policymakers need to shift incentives" to support regenerative farming practices, he said, adding that it is a multi-pronged opportunity for governments, companies and non-governmental organizations to tackle together.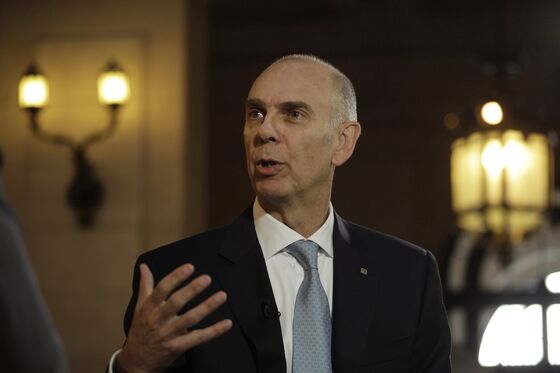 The United Nations expects 50% more food will be needed by 2050, with a 73% spike in demand for protein, he said.
While food waste is another big challenge, the 118-year-old ADM remains highly optimistic about the future of food, according to Luciano. "A new food economy is in the horizon," Luciano said. "I'm very excited about the opportunity for the food industry to do good for the planet."
Companies Under Pressure on Supply Chain Transparency, MIT's Bateman Says (2:05 p.m. NY time)
About 46% of companies are under pressure to be more transparent about their supply chains, according to Alexis Bateman, a director of MIT Sustainable Supply Chains, part of the Center for Transportation and Logistics at Massachusetts Institute of Technology
"There's greater awareness not just by stakeholders, but also the lay consumer that is recognizing that companies have major supply chains and they have social and environmental impact," she said.
ESG Data Shortcomings Benefit Sophisticated Investors, Merrill's Snider Says (1 p.m. NY time)
ESG data has improved, over the past eight years or so, to the point where investors are now able to use it to construct robust portfolios, said Anna Snider, head of CIO due diligence at Merrill Lynch.
Years of investor pressure for corporate disclosures on the materiality of ESG issues, as well as private investors using alternative data sources, has enabled this progress, Snider said. Still, ESG data is far from perfect and has many shortcomings, especially when it comes to comparability, she said.
That creates a market where sophisticated investors with knowledge of the shortcomings and limitations will be the most likely to succeed, Snider said.
Schroders' Howard Says 2020 Is 'Watershed' Year for the 'S' of ESG (12:35 p.m. NY time)
This has been a "watershed" year for ESG investors, not least because it has forced them to pay greater attention to the role that companies play in society, said Andrew Howard, global head of sustainable investments at Schroders.
Investors are making a greater connection between the impact that companies have within society and their financial performance, he said.
"Companies' abilities to build strong relationships with their customers, with their employees, with the other stakeholders that they rely on is fundamental to the strength of their business and fundamental to their ability to remain competitive," said Howard. "We're seeing a lot of those things moving from being kind of nebulous ideas in some ways to being very tangible and real questions that we as investors have to ask of the companies that we invest in."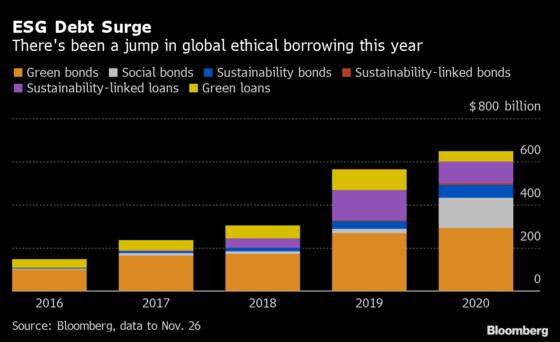 Covid Exposes Corporate America's Moral Leadership Vacuum, Says MIT's Zeynep Ton (12:20 p.m. NY time)
In previous generations, such as after World War II, corporate leaders played a crucial role in job creation and getting the American economy back on its feet. In 2020, with the U.S. struggling to cope with the coronavirus outbreak, that model isn't going to be repeated, said Zeynep Ton, a professor at MIT's Sloan School of Management.
An obsession with corporate profits above all else in recent decades, as well as financial incentives that encourage top executives to focus on the short term, mean U.S. corporate bosses are not stepping up to meet the economic challenges caused by Covid-19, she said.
"Corporations have strong financial competitive and moral reasons to offer good jobs to their employees in pretty much every sector that we look at," Ton said. The "sad scenario" today is that "we don't have as many of those courageous committed leaders that we had during and after World War II who came together and who said we need to create more good jobs for America," she said.
Ignoring Sustainability Is 'Greatest Threat' to Business Success, Patagonia's Johnson Says (11:25 a.m. NY time)
Companies that fail to adjust to consumer preferences for greater sustainability and responsible business practices will suffer, said Jenna Johnson, head of Patagonia Inc., the outdoor-apparel retailer that's made sustainability central to its mission for decades. In fact, failing to do so could be the "greatest threat to their business," she said.
"There are a lot of companies that are afraid," Johnson said. "They're stuck in this growth model and they're afraid that making change might influence or impact their ability to continue to see growth."
Johnson said it's possible to run a commercially profitable business and care for the planet at the same time, though publicly traded companies may face greater challenges than private businesses. Patagonia is closely held.
Preventing Covid Vaccine 'Fallout' Will Be Critical, Carrier CEO Says (10:55 a.m. NY time)
Roughly 25% of vaccines today are wasted either through logistics issues or lapses in the cold-chain of refrigerated transport needed to store those vials at low temperatures, a challenge that will be magnified when it comes time to distribute a Covid-19 vaccine, Carrier Global CEO David Gitlin said.
Additional capacity will be needed to store some of the Covid-19 vaccines under development, such as Pfizer Inc.'s, in deep-freeze temperatures that are much lower than those required by many vaccines today, he said. Companies are also preparing for the sheer demand for a coronavirus vaccine that Gitlin expects to reach some 10 billion doses, compared with roughly 1 billion for seasonal influenza, he said.
"What's really, really critical is that we have as little fallout as possible once these vaccines start their distribution," he said at the Bloomberg Sustainable Business Summit.
More capacity will be needed in the U.S., but even more so in other parts of the world that have seen less investment in cold-chain infrastructure, he said.
"There is going to be no way that a country like India can effectively distribute this vaccine without more capacity and without better data analytics," Gitlin said.
Gitlin also spoke about Carrier's diversity and inclusion efforts, which have gained greater attention at the company since the police killing of George Floyd.
While the company has focused on boosting the number of women and people of color in Carrier's executive ranks, improving Black representation has been a challenge, he said. Gitlin began a series of listening sessions with Black employees, who told him they were under-represented and that "people talked about putting figurative masks on when they come to work -- they can't be themselves," he said.
"It really was a tremendous wake-up call that we need to change to really become inclusive," he said.
Climate Disclosures Help Uncover Corporate Laggards, BNP's Lewis Says (10:35 a.m. NY time)
The transition to a low-carbon economy is engendering a widespread reassessment of asset values, and climate disclosures will be a critical tool for investors to assess which companies will thrive and which will be left behind, said Mark Lewis, global head of sustainability research at BNP Paribas Asset Management.
Lewis said the Taskforce on Climate-related Financial Disclosures is "helpful for us as investors to see which companies are taking these risks seriously." With the information, investors can ask more informed questions and get to the answers more quickly than they would have otherwise, he said.
The disclosures enabled under the TCFD also are invaluable for banks as they "provide commonality" amid a plethora of national reporting standards, said Zoë Knight, managing director and group head of the HSBC Centre of Sustainable Finance.
BNP's Lewis said disclosures are critical now because this is the first year when renewable energy -- wind and solar -- account for most of global energy demand, a physiological rubicon that has led to a realization in financial markets that "the fossil-fuel era has come to an end."
In the three years since the TCFD made its recommendations, more than 1,615 companies and financial institutions responsible for combined assets of $153.4 trillion have signaled support for them. Michael R. Bloomberg, the founder and majority shareholder of Bloomberg LP, the parent company of Bloomberg News, is the chair of TCFD.
Schroders CEO Calls for 'Impact-Adjusted Profits' (10:06 a.m. NY time)
Schroders CEO Peter Harrison said asset managers need to be more aggressive in taking into account the impact of climate and societal events on corporate earnings.
While investors once focused only on profits, "we are at a new juncture and we need to go a step further," Harrison said. Fund managers must require "impact-adjusted profits" since "not all profits are created equal," he said.
"We are at a transformational moment in the history of the asset-management industry," said Harrison, adding that money managers can use "big data" to get a clearer picture of the "externalities" that affect a company's bottom line.