Insiders Buying Surged Last Week With IBM, GE Executives Jumping In
(Bloomberg) -- One group of investors who scored gains by scooping up shares at the bottom of the rout in February are back at it again.
From General Electric Co. Chief Executive Officer Larry Culp to IBM Corp. CEO Ginni Rometty, purchases by corporate insiders jumped last week as the S&P 500 Index rebounded from one of the worst sell-offs in this bull market. Buyers outnumbered sellers by the most since October 2016, data compiled by Sundial Capital Research showed.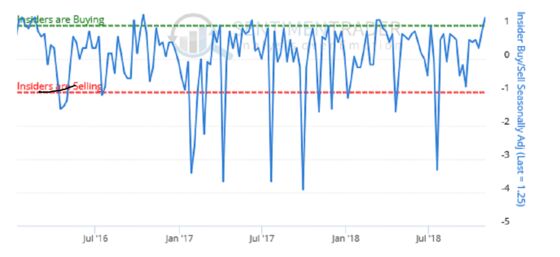 The increase in demand from companies' highest-ranking employees could be seen as a vote of confidence in a market where more than $2 trillion of equity value was erased in October amid concerns over trade tensions, higher interest rates and peaking growth. At 15.1 times forecast earnings a week ago, the S&P 500 traded at the lowest valuation in more than two years.
"They picked a decent week to pick up their buying, at least earlier in the week," Jason Goepfert, president of Sundial Capital, wrote in a note published late Friday. "Buying interest among insiders is more reliable" than selling to gauge market directions, he said. "When it happens to the degree it did, it's been a good sign."
The last time insider buying outpaced selling in March, the S&P 500 was in a middle of a 10 percent correction before staging a rally that lasted six months.
This time, the buying spree coincided with a rebound in stock prices. More than 60 members in the S&P 500 fell to 52-week lows and then bounced back to close higher for the week. Such a selling climax, as identified by Sundial Capital, was last seen in January 2016.