Inside the Unwind That Bulldozed Cyclicals Traders: Taking Stock
(Bloomberg) -- The mood this morning is a relatively calm one, considering the cyclicals washout that turned heads on the industrials and materials trading pads.
Stock futures are flattish following little movement in the overseas markets while the 10-year yield continues to hover a bp or two above the 3.20% mark. Sectors to watch today include:
Every chemical stock after Trinseo follows PPG with weaker preliminary results (TSE fell ~8% last night after a 6% drop during the trading day; see more on the materials shakeout below)
Containerboards weakness may continue after Goldman downgrades International Paper and removes WestRock from its conviction list on capacity concerns (follows uber-negative note from BMO that struck the space down on Tuesday)
Luxury stocks after the European names tumbled on a sector downgrade from Morgan Stanley, which offset stronger sales figures from LVMH (both LVMH and Burberry sank >5%)
Industrial distributors, like a Grainger, after Fastenal reported a 3Q EPS beat, though also posted a year-over-year decline in gross margins; the statement had little in the way of qualitative outlook commentary, so its possible the 10am call may be the bigger catalyst
Managed care stocks like UnitedHealth and Humana on any potential reaction to Trump's op-ed in USA Today titled "Democrats 'Medicare for All' Plan Will Demolish Promises to Seniors"
Rampant volatility in the pot stocks, especially the newer small-caps that have recently joined the mania like Pyxus (shares had a 25% peak to trough reversal on Tuesday) and India Globalization (up ~9% pre-market on a CBD drink patent).
Sparking a Cyclicals Unwind
The big story on Tuesday was the unwind in the cyclicals trade that was sparked by a brutal preliminary result out of paint giant PPG. While the broader benchmark indices traded in relatively tight ranges and ended the day near the flat-line, the materials and industrials sectors sold off to negate the strength seen in the defensive sectors (utilities, REITs) and energy.
The S&P 500 Materials index was hit the most, falling 3.4% for their worst single-day loss in eight months on weakness in the chemicals (with PPG tanking >10% and DowDuPont tumbling 3.7% to lead the Dow Jones lower) and the packagers, specifically the containerboard makers Packaging Corp., WestRock, and International Paper, which cratered on a negative BMO note.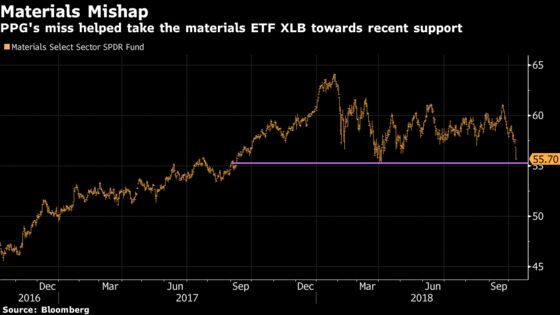 Selling in the industrials was more broad-based, from the airlines (American Airlines plunged 6.6%) and the autos (Ford broke under $9 for first time in more than six years) to the heavy machinery names (Caterpillar had its biggest down day in over two months), the distributors (Fastenal's earnings this morning may add volatility to the space today) and the building products (JPMorgan didn't help after striking a more cautious tone).
Disappointing earnings outlooks have become a regularity over the coming weeks, and the sentiment in the materials space was already skewed to the negative side thanks to a big EPS miss from coating peer RPM last week and warnings from a slew of auto OEMs and suppliers (a sector supplied by many companies in the materials space).
But PPG hit the group extra hard given a) its market cap is more than triple the size of RPM's, b) its revenue is split between the U.S. and trade-sensitive areas like Europe and Asia, and c) its exposure to the autos segment, specifically the higher-margin refinish business. Plus a rundown of its largest customers, as can be seen in our supply chain function on the terminal, is basically a list of some of the biggest companies in the world, like Ford, General Motors, Toyota, Boeing, Airbus, Walmart, and Home Depot.
The numbers were bad, and management's commentary was worse: "We experienced the highest level of cost inflation since the cycle began two years ago"; "We are anticipating continued raw material cost inflation in the fourth quarter"; "We saw overall demand in China soften"; "We experienced weaker automotive refinish sales as several of our U.S. and European customers are carrying high inventory levels due to lower end-use market demand."
For what it's worth, one trader at a bulge-bracket bank relayed to me that the PPG bulls were nowhere to be found after the worst selloff in the name in a decade. Instead, shorts were out pressing their positions in the name on the cyclical and regional worries that continue to haunt the group.
Dow (DuPont) in the Dumps
So that was all yesterday, but today we have a fresh preliminary whiff within chemicals land to chew on. This one comes from smid-cap plastics maker Trinseo, which cited higher raw material costs and slowdowns in the auto industry and in China (sound familiar?). Trinseo may not have the same name brand or wide-ranging impact that PPG did, but the story remains the same -- and we're still weeks away before we get earnings from the bellwethers:
Sherwin-Williams (Oct. 25), which may be more insulated given ~80% of its revenue is tied to U.S. and its mix that is less reliant on auto and more on architectural and general industrial
LyondellBasell (Oct. 30), which may see similar pressures as PPG given its >50% exposure to the autos sector and the fact that it has >50% sales in EMEA and another 11% in Asia Pacific
DowDuPont (Nov. 1), the $140 billion chemicals titan that closed at a 17-month low on Tuesday and whose revenues are ~28 in EMEA and almost a quarter in Asia Pacific -- Bernstein, who has a $90 price target vs the last close of $60.84, is out defending the name this morning; they call the stock reaction "wildly overdone" and note that a significant economic contraction would be necessary to justify the current share price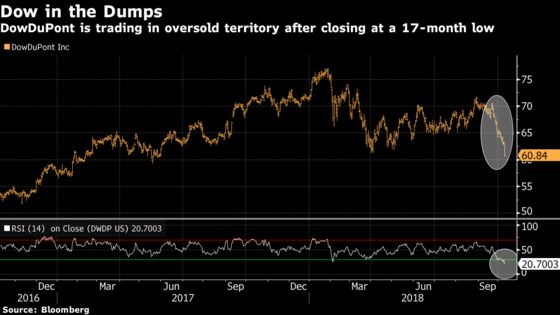 Notes From the Sell Side
The Morgan Stanley luxury-goods sector downgrade to underweight, Goldman's cautious note on the containerboards, and Bernstein's big defense on DowDuPont were mentioned above.
Elsewhere, JPMorgan's GE permabear Steve Tusa has another negative note on the stock, which is already getting hit by almost 1% in the pre-market: "While consensus seemingly continues to ignore on-the-ground realities in exchange for hope around a new CEO, if the $23B goodwill charge, guide down, and CEO change were not enough, recently published feedback from a GE H-frame Users Group event suggests more serious technology issues with the new flagship product."
Bernstein has a massive multi-sector deep dive on Amazon's disruptive impact throughout the business world. Some of their conclusions: 1) concerns are overstated for household personal products, broadlines & hardlines, softlines, transports, media, and payments; 2) Amazon is actually "good" for software and for restaurants in the U.S.; 3) sectors most at risk are IT hardware, healthcare services, and U.S. food.
Deutsche Bank slashes its price target on Alibaba to $189, which is amazingly the Street low even though it is more than 20% above the stock's last close: "We recently caught up with BABA and sensed that BABA's Sept Q GMV could be softer than June Q, somewhat validating the weak July & Aug online retail sales growth reported earlier by NBS data."
Deutsche is also out downgrading three household personal products stocks to sell (Clorox, Kimberly-Clark, Church & Dwight) as the analysts are "structurally more cautious" on this group versus the beverages and tobacco names ahead of earnings and the remainder of the year as well as into 2019.
Keybanc has a note on the cloud stocks titled "The Big Chill - Eight SaaS Growth Stocks to Buy on the October Pullback"; they argue that cloud software fundamentals remain robust and recommend buying Shopify, Salesforce, Twilio, Zendesk, Wix, Blackline, Avalara, Mindbody.
Tick-by-Tick Guide to Today's Actionable Events
Today -- TEVA/Celltrion's CT-P10 to be discussed by FDA committee
7:00am -- MBA Mortgage Applications
8:30am -- PPI
9:00am -- HON Resideo Tech to host investor conference
10:00am -- Wholesale Inventories
10:00am -- FAST earnings call
10:00am -- SCG/D North Carolina PUC hearing
10:05am -- ECA CEO keynote at Calgary Energy Roundtable
10:10am -- MSFT CEO Satya Nadella on Bloomberg TV
10:30am -- WEB shareholder vote on Siris Capital deal
10:30am -- BP CEO Bob Dudley on Bloomberg TV
12:00pm -- DoE short-term oil and natgas outlook
12:00pm -- PFE CEO Ian Read at Economic Club of New York
12:00pm -- GS CEO David Solomon & NewTV's Meg Whitman and Jeffrey Katzenberg at Vanity Fair summit
12:15pm -- Fed's Evans speaks on economy and monetary policy
12:40pm -- GPP CEO Todd Becker on Bloomberg TV
4:15pm -- COST monthly sales
4:30pm -- API oil inventories
6:00pm -- Fed's Bostic speaks on economic outlook
7:00pm -- Trump hosts MAGA rally in Erie, Penn.
Tonight -- ABX scheduled to release quarterly sales
Tonight -- IPOs to price: Livent (LTHM), Allogene Therapeutics (ALLO), Osmotica Pharmaceuticals (OSMT)