Inside the Deadly Business of Stealing Fuel in Mexico
(Bloomberg) -- "When are you going to come?'' Panchito asks into the phone, wiping oil from his bald head with a rag. "I can't make it for at least 15 days,'' comes the reply from The Mummy. "Things are real hot. If I can come earlier, I'll call you.''
Panchito is a mechanic who runs a modest car-repair shop in central Mexico with his wife –- and a side business selling stolen fuel. He says the man he refers to as The Mummy is a truck driver for the state oil company, and one of his regular suppliers. They're feeling the heat because the country's new president just declared war on a booming black market that's enabled both of them to thrive.
Andres Manuel Lopez Obrador was elected last year on a pledge to clean up Mexico's corrupted institutions. He's started out by targeting its most important company, Petroleos Mexicanos, which loses an estimated $3.5 billion a year to the thieves. And that's just one piece of a wider problem. With soaring crime rates and a huge informal economy, both linked to a bloody and largely unsuccessful war on drugs, Mexico has given the impression of sliding into lawlessness.
Lopez Obrador's attempt to fight back took a tragic turn last week when a pipeline exploded in Hidalgo state, killing more than 90 people. It had been illegally tapped, and hundreds of villagers who'd gathered to collect a share of the bounty got bathed in a geyser of premium gasoline. Critics said the accident on a pipe that was supposed to be under surveillance showed the limits of the campaign against fuel theft, while the president vowed to redouble his efforts.
Lopez Obrador is promising social programs for poor communities that make the bootleg fuel less attractive, but he's getting tough too. He's tried temporary shutdowns on most of Pemex's refined-product pipelines, and sent soldiers and police to guard them -– including the one in Hidalgo that was robbed anyway and then blew up.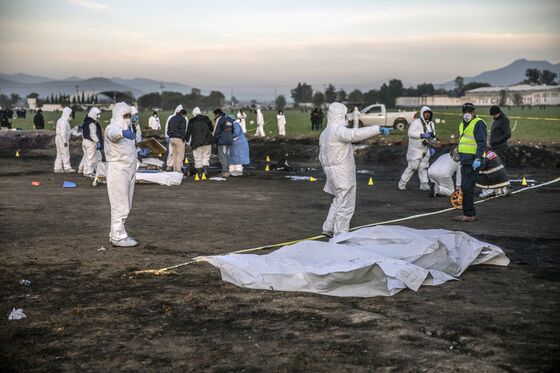 Panchito, whose auto shop is on the highway that leads there, glances nervously at the military trucks zipping by. "These troops have come with orders,'' he says. "They're willing to shoot.'' He says there are lookouts who send warnings when the police or army show up. He requested that his real name be withheld, so authorities can't identify him.
The game's getting riskier, Panchito acknowledges. But, for now at least, it's worth it. He sells "huachicol,'' as the stolen fuel is known, for about 13 pesos (68 cents) a liter, compared with more than 20 pesos at gas stations. A profit margin above 30 percent has helped him buy homes in several states, and treatment for his diabetes.
Mexico has an army of Panchitos. There were 41 illegal pipeline taps a day in the first 10 months of last year, up 45 percent from 2017.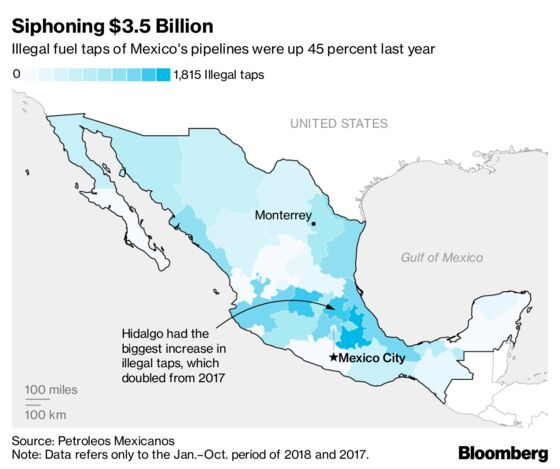 The main victim is Pemex and its owner, the cash-strapped Mexican government. But some of the world's biggest energy companies have been caught in the crossfire too. BP Plc and Total SA, which arrived in Mexico after AMLO's predecessor Enrique Pena Nieto opened the industry to private and foreign investment, have had to suspend service at gas stations in recent months because fuel they'd paid for never arrived.
"It's one of the biggest issues affecting the market,'' says Ixchel Castro, a senior analyst at energy consultant Wood Mackenzie Ltd. "The good news is, the new government has a strategy.''
That's only good news if it works. Alejandro Hope, a security consultant in Mexico City, recalls the war on drugs launched by President Felipe Calderon right after he took office in 2006. It was popular at first, but then the bodies started piling up -- and Mexicans started to wonder if their government knew what it was doing.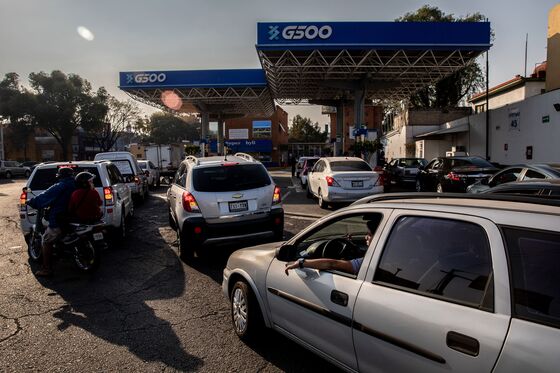 AMLO has opted for "an epic crusade instead of a permanent, systematic effort to end gasoline theft,'' says Hope. "They've focused their strategy on closing supply and stopping the commercial network, but not on taking apart the groups that control theft.''
The government says it's arrested more than 400 people for stealing fuel since Lopez Obrador took office on Dec. 1. It has frozen bank accounts and is investigating former officials for complicity. Soldiers have been deployed to Pemex terminals and refineries. They'll also guard pipelines at 20-kilometer intervals until better technology can be installed to prevent taps, the president's spokesman Jesus Ramirez said in an interview.
Whatever it's doing to fuel thieves, the policy carries short-run costs for the economy. With pipelines shut, Pemex and other suppliers had to use slower, more expensive tanker trucks. The pipes have mostly re-opened, but not before shortages shaved more than 0.1 percentage point off first-quarter GDP, according to local lender Banorte.
The disaster in Hidalgo showed how hard it is to police pipelines, but highways aren't much easier. "They can't watch every single kilometer,'' says Pablo Alvarez, logistics director of Grupo Idesa, which owns Mexico City-based freight company Excellence Freights. "The risk is going to increase'' for drivers, he says, because huachicoleros who can't steal from pipelines may hijack trucks instead.
The black market is ubiquitous in Mexico, where almost 60 percent of the workforce is outside the formal economy, and gasoline has long been one of the mainstays. Since the 1980s, petty criminals in cahoots with Pemex employees have been stealing and selling it. But the problem escalated about a decade ago when the country's violent drug gangs took an interest.
Panchito recalls that in 2008, after three years in the business, he was discovered by the Zetas cartel, who demanded 10,000 pesos a month. He says he was threatened with machine-guns, beaten, and kidnapped. Then, "they came to kill. There was no choice but to negotiate.'' He had to pay the narcos a chunk of his earnings -– until about four years ago. What changed? "They moved to Poza Rica,'' a crime-ridden oil hub in neighboring Veracruz state, he says with a shrug.
Mexican fuel thieves are used to government crackdowns. Calderon installed a system to detect leaks, but illegal taps still soared as more fuel was pumped through the pipelines amid growing demand. Pena Nieto tried removing key ingredients from the gasoline, and he sent the army into hotspots to fight the huachicoleros. Neither tactic had much effect.
Panchito says he's adjusting to the AMLO version by holding less stock -- buying 25-liter cans of diesel from black-marketeers who stop by his shop, instead of his usual weekly shipments of two 200-liter drums from The Mummy. The deals are done late at night over weekends, when there are fewer patrols. He stashes the fuel behind a stack of tires out the back of his shop.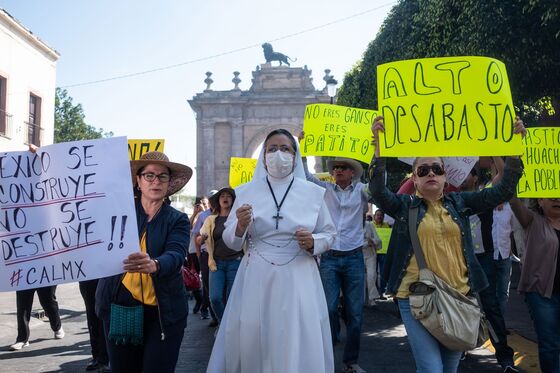 If supply has held up, so has demand. Green Chili, a truck driver who asked to be identified only by his nickname, says that buying stolen fuel from Panchito saves him more than 2,000 pesos every time he carries tangerines on the six-hour route from Veracruz to the State of Mexico. That's almost one-fifth of his gross earnings.
"It allows me to buy food, earn a decent living,'' he says, smiling to reveal a gold tooth as he fills up his tank with the bright green liquid.
Panchito looks up from a bucket of soapy water, where he's washing oil off his hands. "One way or another, Mexico runs on this underground economy," says the thief. "You can't stop huachicol without stopping everything.''