Infosys Drives India's Sensex to Record After 3Q Earnings Beat
(Bloomberg) -- India's stocks rose as investors turned their focus to companies' October-December earnings reports.
The S&P BSE Sensex advanced 0.6% to a record 41,859.69 in Mumbai. The NSE Nifty 50 Index also climbed 0.6% to a new high of 12,329.55. Infosys Ltd. was the biggest boost to both gauges.
Infosys, Asia's second most-valuable software exporter, on Friday posted quarterly net income after market hours that beat the highest analyst estimates. The company raised its sales-growth outlook for the year ending March 2020 to between 10% and 10.5%.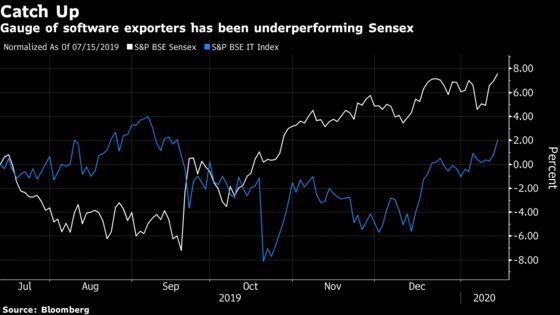 Software exporter Wipro Ltd. and IndusInd Bank are scheduled to announce results on Tuesday.
"The broader market under-performance should take a pause now and earnings will help selective midcap stocks to gain," said Pritam Deuskar, a Mumbai-based analyst with Bonanza Portfolio Ltd. "We expect consumption and entertainment stocks to do well."
All 19 sector indexes compiled by BSE Ltd. rose, led by a gauge of realty companies
Infosys contributed the most to the Sensex gain and had the largest move, increasing 4.8%
Yes Bank Ltd. declined 5.9% after its board approved raising $1.4 billion, while rejecting an investment bid
Deutsche Bank's Dhir Hired by Yes Bank for Corporate Bank Role
Stick With Infosys,

Analysts Say

, as Whistle-Blower Worries End
Jubilant Foodworks a Buy at I-Sec Despite 57% Gain Since Aug Low