Inflation Is the Missing Piece From Treasury Yields, Fed Liftoff
(Bloomberg) -- With the Federal Reserve intent on monetary tightening, benchmark Treasury yields are finally taking flight to multi-year highs. Yet absent from this equation is any indication of inflation becoming unmoored.
As long-term Treasury yields broke well past recent ranges, traders and economists alike observed that improved growth prospects, rather than an acceleration in inflation, propelled the move. Signs that the U.S. economy remains robust were evident in data Wednesday showing healthy gains in private job creation and America's service industry. Fed Chairman Jerome Powell, for his part, heaped praise on recent economic performance, sending a strong signal that the central bank would continue raising rates to the point of eventually restricting growth.
Unlike past episodes of debt yields spiraling higher, this time there's no indication that investors fear inflation will shoot up well beyond the Fed's 2 percent target. While inflation linked-debt shows some short-term price pressures are being built after a nearly 15 percent rally in oil prices since mid-August, inflation expectations for the years ahead remain contained.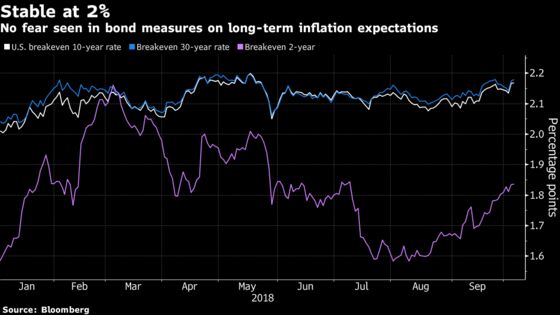 "There are some signs of wage inflation picking up, but it still remains to be seen whether we'll see a sustained rise, and in core PCE and CPI there isn't any real inflation," Nikolaos Panigirtzoglou, a London-based strategist at JPMorgan Chase & Co, said. He said that a big force behind yield increases since Wednesday was investors getting caught wrong-footed with bets that yields would fall.
Despite tepid inflation, "the Fed is continuing to tighten because they want to build up a cushion to be able to ease policy in the next recession," Panigirtzoglou said. "And the more they move above the neutral rate, that gives them that cushion. That's their main goal."
A market-based gauge of the annual U.S. inflation rate for the next decade -- the 10-year breakeven rate -- has risen to about 2.17 percent, yet remains below a four-year high reached in May. It suggests investors don't see inflation exceeding Fed officials' 2 percent target on average over the next decade. That goal is expressed in terms of the deflator for personal consumption expenditures, which has historically trailed breakevens by about 40 basis points on average.
"We're not looking for inflation to break out," said Priya Misra, head of global rates strategy at TD Securities. "Breakevens are still lower than they were earlier this year."
Treasuries slightly pared losses Thursday as the bond rout dented U.S. stocks, and a flurry of block trades put the brakes on yield-curve steepening. Earlier, the yield on the benchmark 10-year note had reached 3.23 percent, the highest since 2011. The 30-year yield touched 3.39 percent, the highest since 2014.
Much of the Treasury selling has been technically driven. In their runup, Treasury yields breached key target levels after speculators built a record amount of bearish bets. Futures for U.S. 10-year, long, and ultra-long bonds saw preliminary open interest -- a measure of outstanding positions -- surge to fresh records Wednesday, with each racking up their biggest one-day increase since the current contracts became the front month.
Traders ramped up bets on 2019 Fed hikes after labor-market data released Sept. 7 showed wages jumped in August by the most since the end of the recession. Last week, the Fed raised its interest-rate target range to 2 percent to 2.25 percent and removed a reference in its statement that the policy remained "accommodative," though Powell downplayed the change in language.
"Interest rates are still accommodative, but we're gradually moving to a place where they'll be neutral," neither holding back nor spurring economic growth, Powell said Wednesday. "We may go past neutral. But we're a long way from neutral at this point, probably," he added.
Policy makers peg the long-run neutral rate at 3 percent, according to the median projection of officials released after last week's meeting. An updated dot plot of their rate forecasts shows them raising rates slightly above that level by the end of next year. Officials' median estimates of PCE and core PCE measures given in the latest batch of quarterly forecasts show they see inflation hovering around 2.1 percent through 2021.
"We'll see a continued drift up in yields," said Jay Mueller, senior portfolio manager at Wells Capital Management. "But for yields to get materially higher, good economic numbers are probably not sufficient, you'll also need to see some higher inflation prints. We've been fairly sanguine about inflation but wage growth has been perking up and the trade tensions are another factor affecting inflation."
A Labor Department report to be released on Friday is projected to show that unemployment dipped to 3.8 percent in September, matching the lowest level since 1969, according to the median forecast in a Bloomberg survey of economists. Average hourly earnings growth though probably eased to 2.8 percent from 2.9 percent in August, the highest since June 2009.
"The inflation data isn't going to break to the upside," said Kevin Cummins, senior U.S. economist at NatWest Markets. While Friday's data may show some increase in earnings, "at the end of the day inflation isn't going to go higher and will remain close to 2 percent."