Indonesia Consumers Enjoy Cheap Loans Even After Rate Hikes
(Bloomberg) -- Indonesia's central bank raised interest rates six times this year, yet consumer lending rates are still falling in Southeast Asia's biggest economy.
Between May and September, when Bank Indonesia raised its benchmark rate by 150 basis points, average rates for consumer loans fell by 44 basis points to 11.9 percent, according to the most recent data from the nation's Financial Services Authority. Rates for investment loans rose only 25 basis points.
The central bank raised its policy rate by another 25 basis points since then, and Governor Perry Warjiyo has signaled he is ready to do more next year to stem a sell-off in the currency if emerging markets remain under pressure. Lenders aren't passing on those rate increases though, worried about still subdued consumer borrowing and an overhang of bad debts.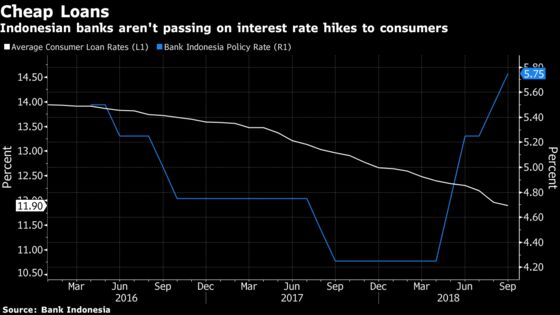 "We don't feel there is a need to raise our rates again until year-end," said Jahja Setiaatmadja, president director of PT Bank Central Asia, the nation's biggest lender by market value. The company's net interest margin -- the difference between deposit and lending rates -- is "still sufficient," he said.
Official data shows average one-month deposit rates for customers climbed 69 basis points to 6.28 percent between May and September.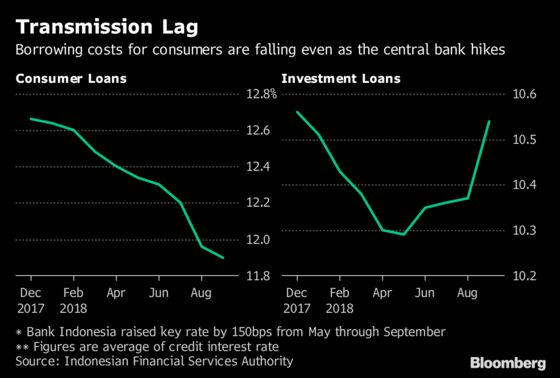 The central bank has been tracking the U.S. Federal Reserve with rate hikes in order to keep Indonesian assets attractive to foreign investors. At the same time, the drop in lending rates is delivering a timely shot in the arm for the economy, which has been expanding around 5 percent for much of this year.
Credit growth rose 13 percent in September from a year earlier, up from 7.6 percent at the beginning of the year, according to data from the Financial Services Authority.
"Looking ahead, demand for credit has the potential to increase along with the improving economy," said Dody Budi Waluyo, Bank Indonesia's assistant governor. The "tightening transmission is going well" and provides a strong signal of policy makers' commitment to lower the current-account deficit and improve the attractiveness of financial markets, he said.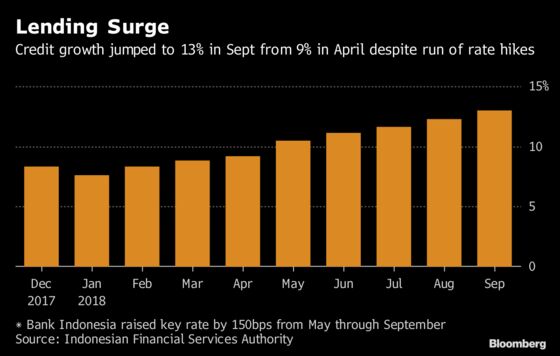 The recovery in credit demand comes on the back of a low inflation environment and a pick-up in consumer spending, with sales of household equipment, including goods such as electronics and furniture, improving in recent months. Spending by consumers and businesses make up more than half of gross domestic product.
Demand for consumer loans "has just begun to pick up," said Dian Ayu Yustina, an economist at PT Bank Danamon in Jakarta. "Banks also tend to be more careful in passing on the rate hikes to the consumers." The lending market has become more competitive, in part due to the emergence of financial technology, she said.
Lenders say they are being careful to avoid pressure on borrowers that could result in a spike in non-performing loans. PT Bank Negara Indonesia had raised its rates "selectively" in response to the central bank's policy adjustments, according to President Director Achmad Baiquni.
"In principle, lending rate hikes should be done carefully by considering debtors' capability in order to prevent there being a negative impact on lending quality," he said.
With the rupiah gaining almost 6 percent against the dollar this month and the Fed striking a more softer tone on policy tightening, Bank Indonesia may have reason to keep interest rates on hold after a surprise hike earlier this month. The central bank is scheduled to announce its next decision on Dec. 20.
Josua Pardede, an economist with PT Bank Permata in Jakarta, said credit risk "is relatively low" and that banks for now are more inclined to adjust deposit and lending rates at a slower pace. "The transmission on deposit and lending rates will be seen in the next year which could lead to slower credit growth and a slowing GDP growth," he said.