Indonesia Decision Guide: Time for a Pause as Rate Hikes Pay Off
(Bloomberg) -- Indonesia's central bank may be ready to hit the pause button after five interest-rate hikes and measures to curb the current-account deficit start to pay off.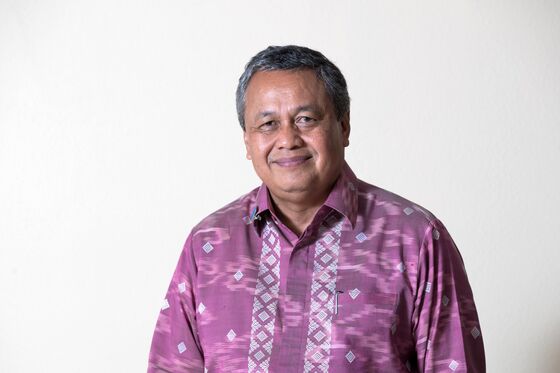 Of the 30 economists surveyed by Bloomberg, 21 predict Governor Perry Warjiyo and his board will keep the seven-day reverse repurchase rate unchanged at 5.75 percent. The rest expect a hike of 25 basis points.
After 150 basis points of rate hikes since May and curbs on imports to help narrow the current account deficit, the rupiah is looking more stable and foreign investors have started to buy Indonesian bonds again. While that doesn't mean Bank Indonesia is done tightening, it does allow policy makers to "save some bullets" this month, said Charu Chanana, an economist at Continuum Economics in Singapore.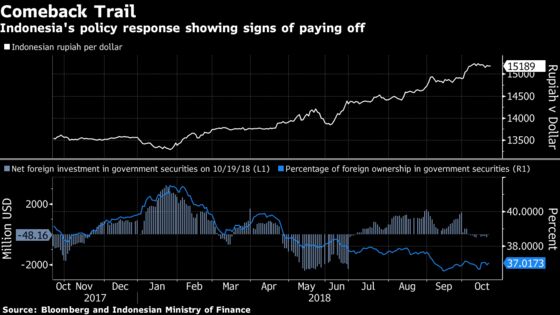 "A slight improvement in sentiment -- with the rupiah being broadly stable in the last few weeks, and a return of the trade balance to the surplus zone -- gives them some room to pause for now," she said.
Here's what to watch for in the statement:
The slump in emerging markets -- triggered by higher U.S. interest rates and a stronger dollar -- has hit Indonesia hard, with the currency down more than 10 percent against the dollar since the start of this year. More recently, the pace of the decline has eased, with the rupiah basically flat since Oct. 5.
An outflow of almost $4 billion from Indonesia's bond market in the second quarter turned into an inflow of $3.7 billion in the three months through September. Conditions are still uncertain though given global trade tensions and prospects of more Federal Reserve tightening, with about $48 million of outflows from government bonds so far this month.
The rupiah was down 0.1 percent to 15,208 against the dollar as of 12:20 p.m. in Jakarta on Tuesday.
A current-account deficit of 3 percent of gross domestic product is one of the reasons cited for Indonesia's vulnerability to foreign outflows. Authorities have been trying to curb imports, including by raising tariffs, to help narrow the shortfall, and some of those measures may be helping. The economy posted a small trade surplus in September as the pace of imports slowed.
The outlook for inflation remains benign, with consumer prices rising at their slowest pace in more than two years at 2.9 percent in September. That's well within the central bank's target band of 2.5 percent to 4.5 percent.
With the presidential election to be held in April, the government is keen to stay on top of price pressures. Even before the election campaign got underway in September, President Joko Widodo had taken steps to curb energy costs, and earlier this month ordered his energy ministry to scrap an increase in retail gasoline prices.
With growth of about 5 percent, Indonesia's economy is already expanding at a slower pace than Widodo's target of 7 percent. Now, on the back of an emerging-market rout and the threat of spillover effects from a U.S.-China trade war, the outlook for growth is dimming. Finance Minister Sri Mulyani Indrawati told lawmakers last week a weaker rupiah will weigh on the economy, which she said may reach 5.1 percent next year, compared with an initial forecast of 5.3 percent.
The global outlook is still key though, according to Enrico Tanuwidjaja, the head of economics and research for PT UOB Indonesia in Jakarta. He said that given the likelihood of a further tightening in global and especially U.S. financial conditions, Bank Indonesia is set to "remain front-loaded" and raise its key rate by another 25 basis points on Tuesday and again before the end of the year.
Recent Comments by Policy Makers:
Oct. 14: Governor Perry Warjiyo
"I do believe that what you are seeing in the rupiah development, I think it's already misaligned from the fundamentals"
Clarity from the Fed should help in "reducing the volatility of flows as well as volatility of the market and the exchange rate"
Oct. 18: Finance Minister Sri Mulyani Indrawati
"With the current global economic challenges, we want to maintain the balance between economic growth momentum and stability. Hence, we want to effectively utilize our fiscal instruments."
"We will keep reviewing all of our instruments and see whether they can really give a positive impact to the economy, including in terms of boosting job creation and investment, deepening our industrial sector, reducing our dependence on imports and pushing for higher exports."