Indian Steam Turbine Maker Sees Demand Fueling Order Growth
(Bloomberg) -- Triveni Turbine Ltd., an Indian maker of steam turbines, expects strong demand for its products as businesses boost production to meet increasing demand.
The Bangalore-based company is seeing a strong rebound in demand from the Indian market, especially from industries such as distilleries, cement, chemicals, pharmaceuticals and steel, Managing Director Nikhil Sawhney said in an interview with Bloomberg TV. Orders rose 86% in the first half of the fiscal year that started in April, the company said in a post-earnings statement on Tuesday.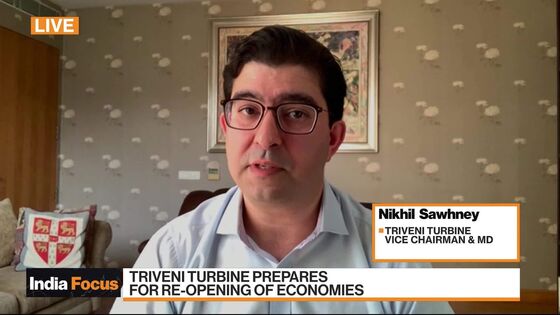 Triveni makes smaller-sized turbines to help industries such as paper and petrochemicals meet their energy needs, and controls 60% of this market in India, according to its website. The company expects international demand to revive too, with a focus on Southeast Asia, Central America and South America, Sawhney said Wednesday. 
"There is a rebound already underway as there's pent-up demand from industries to be able to cater to a demand from consumers," he said. While there is a downside in the form of rising costs for materials such as steel and copper, the company thinks the majority of these increases are temporary, he said. 
Triveni ended its joint venture with General Electric Co. involved in making steam turbines in the range of 30 megawatts-100 megawatts and marketing the machines globally. Triveni received 2.08 billion rupees ($28 million) in what Sawhney called an "amicable settlement." The company now plans to compete in that product category independently, he said.