India Stocks Advance as Post-Lockdown Restart Talks Continue
(Bloomberg) -- Indian stocks rose for a third day, sovereign bonds and the rupee also advanced as investors monitored discussions around plans to restart business activities ahead of a scheduled ending of a lockdown in the world's second-most populous country on Sunday.
The S&P BSE Sensex climbed 1.9% to 32,720.16 in Mumbai, while the NSE Nifty 50 Index added 1.8%. Both indexes are set for their first monthly advance this year after rebounding by more than 20% from March lows. The yield on the 10-year bond fell one basis points to 6.12% while the rupee strengthened 0.7% against the U.S. dollar.
While details of a broader reopening have yet to be unveiled, smaller neighborhood stores in certain areas have been allowed to resume even as market places, malls and offices remain shut. Officials are considering a proposal to guarantee as much as $39 billion of loans to small businesses, people familiar with the matter said this week. Deferrals of tax payments and other incentives to some industries are also being discussed.
"There is a trade off between people's lives and economy," said Chokkalingam G, chief investment officer at Equinomics Research & Advisory Pvt. in Mumbai. "The government will have to do a balancing act of restarting the economic activity to some extent. There will still be restrictions in contaminated areas."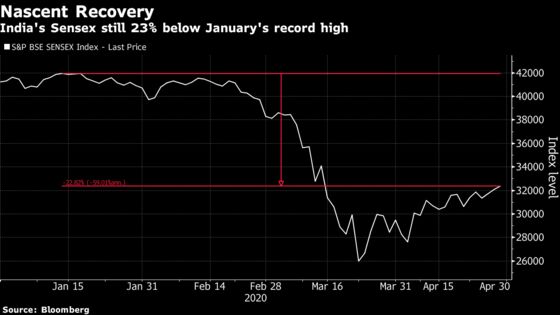 As earnings season continues, Axis Bank Ltd. said it plans to raise as much as 350 billion rupees ($4.6 billion) after slumping to a loss in the three months through March due to additional provisions against potential defaults stemming from the coronavirus outbreak. The stock declined 3.6%. Among seven Nifty 50 companies that have announced results so far, Wipro Ltd. and Infosys Ltd. have refrained from giving guidance, citing the uncertain outlook.
Reliance Industries Ltd. and Hindustan Unilever Ltd. are due to report on Thursday. Local markets are closed for a holiday on Friday.
India has so far reported 31,324 infections, including 1,008 deaths, according to data from the Johns Hopkins University.
All except one of 19 sub-sectors indexes compiled by BSE Ltd. advanced, led by a gauge of metal companies.
Housing Development Finance Corp Ltd. contributed the most to the Sensex gain and had the largest move, increasing 7.1%.
Hexaware Technologies Ltd. climbed 3.9% after the company reported a 27% jump in first quarter profits but suspended its 2020 guidance on coronavirus uncertainty
Hindustan Unilever fell 2.5% as GlaxoSmithKline Plc is preparing to start a sale of its $3.7 billion stake in the company, according to people familiar with the matter.
Why Franklin's Indian Debt Funds Faced a Liquidity Squeeze