India Space Agency Locates Lander in Moon Mission, ANI Says
(Bloomberg) -- India located the spacecraft lander in its moon mission after losing contact with it on Saturday, but was unable to establish communication yet, Asian News International reported.
The mission's lunar orbiter took a thermal image of the lander on the moon's surface, the report said, citing K. Sivan, chairman of the Indian Space Research Organization.
The development comes a day after the attempt to land a probe on the moon's southern pole failed. The Chandrayaan-2 craft's descent was normal until an altitude of 2.1 km (1.3 miles), before communication was lost minutes before the scheduled touchdown, Sivan said in a televised broadcast on Saturday.
Fifty years after Neil Armstrong's fabled first steps on the lunar surface, India tried to become just the fourth nation to pull off a soft landing on the moon. Only the former Soviet Union, the U.S. and China have managed that without damaging their vehicles. Chandrayaan-2, which means "moon vehicle" in Sanskrit, had planned to analyze virgin territory on Earth's closest neighbor for signs of water and helium-3.
Prime Minister Narendra Modi, who watched the attempt to land with dozens of school children from around the country, later met top ISRO scientists in the mission control center in Bengaluru. In a televised speech invoking nationalism, Modi said India's resolve to conquer space has only gotten stronger after the failure.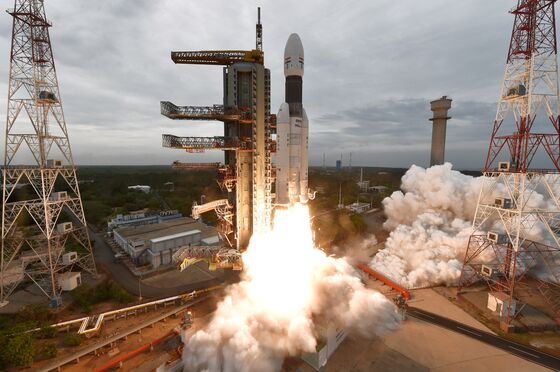 The Indian space agency will analyze data on the landing sequence, Sivan said Saturday. The lunar orbiter is taking images of the moon and conducting other science experiments.
The mission had suffered an inauspicious start: an initial launch attempt in mid-July was aborted minutes before liftoff because of a technical problem. It then launched July 22 and entered a lunar orbit on Aug. 20.
Space-faring nations, as well as billionaires Jeff Bezos, Elon Musk and Richard Branson, are competing in an unofficial space race, from launching satellites to sending astronauts and tourists into space.
India and China are locked in a geopolitical space race of sorts as a way to assert regional dominance and establish a presence in space exploration. China was the first country to land a rover on the far side of the moon while India focused on being first at the southern pole, the same spot the U.S. National Aeronautics and Space Administration is targeting in 2024 with its Artemis mission.
The lunar south pole has long been of interest to scientists. The surface is believed to contain essential resources, while permanently shadowed craters are thought to hold millions of tons of water. The hunt for helium-3, an isotope limited on Earth, is important because it's so abundant on the moon it could theoretically meet global energy demands for 250 years -- if harnessed.
Modi has sharpened India's focus on space since coming to power in 2014, with a pipeline of ambitious flights. India plans to send a mission to study the sun next year, another to Venus three years later, and eventually establish its own space station. It's also working on a $1.4 billion Gaganyaan mission, which aims to put three Indian "gaganauts" into orbit.