Indian Stocks Slump as Investors Assess U.K.'s New Virus Strain
(Bloomberg) -- Indian stocks fell, taking a sudden plunge about one hour ahead of the close as investors assessed the latest coronavirus outbreaks as well as a new lockdown in the U.K.
The S&P BSE Sensex closed down 3% to 45,553.96, the biggest decline since May, with all stocks in the red. Reliance Industries and utilities were the biggest contributor to the losses with the oil refiner down 2.6%. Meanwhile, a broader gauge of about 200 stocks that includes mid caps tumbled 3.4%, the most since May.
"The apprehension is coming from the prolonged lockdown in the U.K and the concerns related to the new variant of the virus," said Sanjay Sinha, strategist at Citrus Advisors, adding that foreign institutional investor flows will likely not sustain going into the holiday season.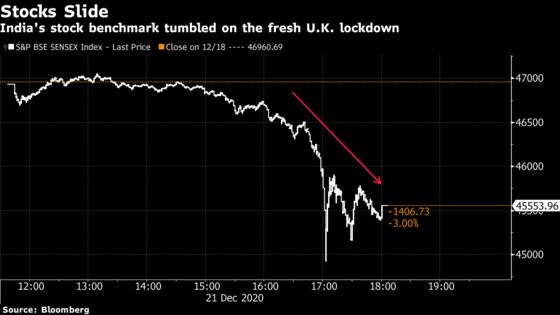 More than 16 million Britons are now required to stay at home as a lockdown came into force Sunday in London, and the U.K. tried to quell a new strain of the virus. India suspended flights from U.K. until Dec. 31.
Meanwhile, virus infections have crossed the 10 million mark in India as the world's second-largest hotspot awaits several emergency vaccine approvals.
Foreign investors have pumped more than $17 billion into the market in the current quarter, the most on record. Both indexes extended record highs with gains of almost 2% last week, marking their longest weekly winning streaks since April 2019. The NSE Nifty 50 Index lost 3.1% on Monday.
Street earnings growth expectations are high and market valuations are at a peak at a time that prospects of growth revival aren't robust enough, Nomura Holdings Inc. analyst Saion Mukherjee said in a note published Saturday.
"The impact of the pandemic on consumers is large, and credit growth and spreads are far from indicating a sanguine outlook," he wrote.
The yield on the 10-year sovereign bond rose one basis point to 5.92% while the rupee weakened 0.3% to 73.7825 per dollar.
All 19 sector sub-indexes compiled by BSE Ltd. declined, with a gauge of metal stocks falling the most
All Sensex shares fell

Oil & Natural Gas Corp. posted the steepest fall, declining 9.2%, while Reliance Industries Ltd. was the biggest drag on the index, sliding 2.6%
Indian Rates Unappetizing on Sustained Food Price Pressure
India May Invite Bids for Shipping Corp Disinvestment, BS Says
India May Further Extend Suspension of Bankruptcy Filings: ET