India's Record Fundraising Spree to Extend into 2022, BNP Says
(Bloomberg) -- BNP Paribas SA expects the record fundraising spree in India to continue next year, aided by robust foreign inflows into initial public offerings and as more companies seeking to expand plan to sell shares.
"I expect 2022 to continue to be a record year for fund raising," Ganeshan Murugaiyan, head of corporate coverage and advisory at BNP Paribas in India told Bloomberg Television's Yvonne Man in an interview Thursday. He added that with capital investments by companies expected to rise next year, qualified institutional placements and follow-on offerings would dominate. The mega-offering by the state-owned Life Insurance Corp. of India is also slated to hit the market, he added.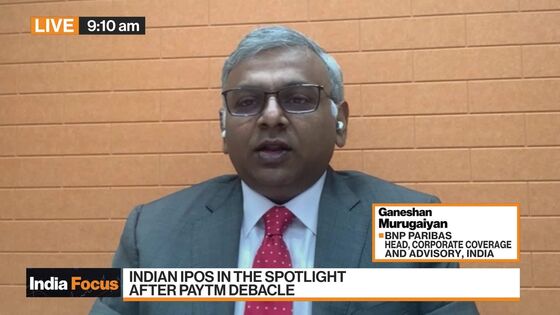 Other offerings on the radar include that of Oravel Stays Ltd., the operator of hotel-booking startup Oyo, which is looking to raise nearly $1 billion. Other sizable listings include API Holdings Ltd., the parent of online pharmacy PharmEasy, and logistics company Delhivery Ltd. Firms have raised about $15 billion through IPOs this year, already an annual record by total proceeds.
In recent weeks, though, market participants have grown cautious after India's fintech giant Paytm saw one of the worst debut listings. Murugaiyan, however, was optimistic about the future IPOs despite the latest hiccup.
"I don't think the value and size of the IPO of digital companies will be scaled down as different companies have different business models and investors look at them very differently," said Murugaiyan. "Investors are discerning and this is not a broad brush indication we can get from the stock market."