An Indian Outsourcer Begins Bringing Back 150,000 Workers
(Bloomberg Businessweek) -- It's Day 3 at the office for work-from-home returnee Krupa Shree. The 28-year-old engineer at HCL Technologies Ltd., India's third-largest IT outsourcer, usually travels to the company's Jigani campus in the bustling tech hub of Bengaluru inside a packed company bus. But post-lockdown pandemic precautions have changed that, switching her commute to a sanitized company cab.
When she arrives at 9 a.m. at the gates of the complex, she's thermally scanned, then answers 14 questions on the company's app on her smartphone to determine if she's recently come in contact with an infected person. She then waits to be greenlighted by yet another app, the Indian government-mandated tracking program called Aarogya Setu, which uses GPS and Bluetooth data to determine whether a person has been within 6 feet of someone known to have the coronavirus. Finally her laptop and bag are sanitized. When she's offered a new mask, she declines, pointing to the one already covering half her face.

Even when Shree has made her way to her office at Tower 2 on the 46-acre technology park that normally houses 11,000 of HCL's 150,000 workers, things are unfamiliar. Only a couple of hundred people have returned so far, leaving the place eerily quiet. Shree, who leads a team testing the software that goes into a global electronics giant's home appliances, sits alone in the cubicle she shared before with three others. No more team huddles, birthday celebrations, or hobby clubs for her group. The vast company cafeteria that used to be at the heart of the action now has widely spaced, single chair-table pairs stretching as far as the eye can see. "My gang of 10 used to sit around a table and eat off each other's lunchboxes," Shree says. "Now it feels like an examination hall."
Welcome to the new normal as India's $181 billion IT services industry, which builds software and provides customer service for Wall Street banks, Silicon Valley giants, global airlines, and retailers, slowly goes back to work. In March, India put the country into extreme lockdown after the novel coronavirus pandemic surfaced, leading more than 5 million IT employees to work from home. Now the outsourcers—long known for their teeming workspaces, packed company transportation, and standing-room-only cafeterias—are figuring out how to return their huge workforces to offices in an era where crowding is considered dangerous. "Companies have no choice but to bring back some workers," says Ashutosh Sharma, vice president and research director at Forrester Research Inc. "But it's a staggered, calibrated return."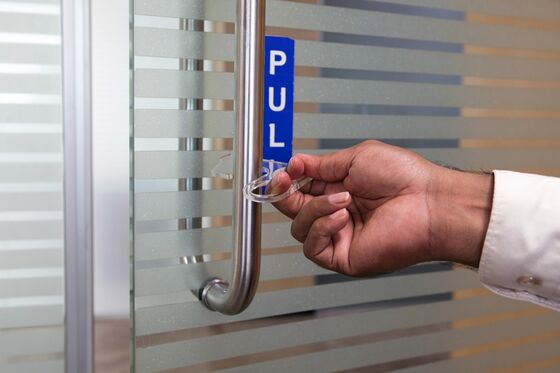 HCL, with $10 billion in annual sales and a global client roster that includes Britain's Manchester United Football Club, U.S. tech giant Broadcom, and Finnish elevator maker Kone, is taking the first tentative steps to reinstate employees such as Shree who need laboratory facilities and hardware to test products for global auto and plane makers. "We have 179 office locations in 46 countries, and each country, each city has its own set of complications," says Appa Rao, HCL's chief human resources officer. "It's a highly volatile, very intricate situation." (Like Shree, Rao was returning to the office for the first time since the lockdown. He said his wife had joked he was returning too soon: He hadn't yet mastered all the household chores.)
Inside HCL's four gleaming towers in the Jigani campus, there are fewer workers and more pandemic minders who watch employees' every move. Elevators that used to ferry dozens now have floor markings for four, with toothpicks supplied to tap the buttons. Large X signs—which forbid sitting—are everywhere, whether on the seats of the golf buggies carting visitors around the campus or the cubicles inside the offices. The campus gym and day-care center are shuttered. Yellow barrier tapes bar entry into certain areas including the health-care facility. Most kiosks in the domelike cafeteria, which used to offer such options as thalis from Punjab or local dosa crepes, are closed. Still, Thiru Kumar, a 27-year-old engineer who shares an apartment with a friend, says the sparse choices remain a big draw: "I hate my cooking but had to stomach it for two whole months."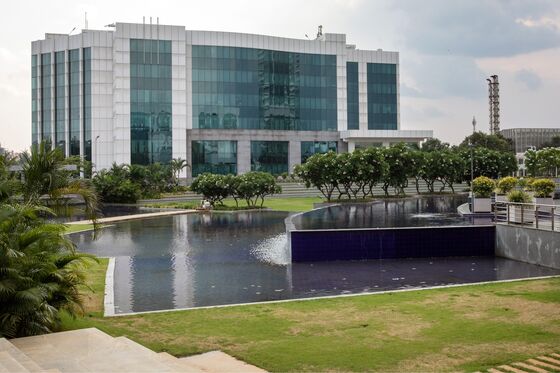 Virus-related functions at HCL are overseen by its newly designated chief pandemic officer, Kiran Nadgir, a director who until recently headed immigration services. A dashboard helps Nadgir and all senior HCL managers as high up as its New York-based chief executive officer, C Vijayakumar, monitor every one of its employees, regardless of where they're working—showing who's working that day, how much code they've generated, and even the quality of their code.
A virtual situation room compiles global virus data to help determine the level of risk at any particular city or office location. Client queries that could be affected by the pandemic, such as the date when 25% of employees assigned to a particular project are expected to return to the office, can be instantly answered by the artificial intelligence-aided tool. The software can even drill down to highlight, for instance, the exact number of employees working on a Deutsche Bank project in Tower 2 of the Jigani campus.
Despite the company's careful planning to welcome back work-from-home returnees, many peers—including Tata Consultancy Services, Asia's largest outsourcer—say they may never bring the bulk of workers back to offices. The cost of office space needed to allow almost half a million employees to work under social distancing conditions would simply be too high. Whatever happens, few in the industry think they'll see a repeat of the past three months. "A prolonged lockdown and this kind of a return is an experience of the century," says the blue jeans-clad Shree, the returning engineer. "Nobody else outside our generation will experience anything like it."