Biggest Airbus A320neo Customer Hands GE Major Engine Order
(Bloomberg) -- The biggest customer for Airbus SE's top-selling A320 narrow-body has chosen General Electric Co. engines for a massive order, after pitting the conglomerate against its dominant U.S. supplier, Pratt & Whitney.
IndiGo, India's largest airline, has selected CFM International Inc., a venture between GE and France's Safran SA, to supply LEAP-1A engines for its fleet of 310 new Airbus A320-family aircraft, the carrier said Friday in a statement, without specifying the size of the deal. A CFM spokesman says it's the largest single order for the company in terms of the number of engines, but declined to put a price tag.
The deal is a surprise considering the global aviation industry has been paralyzed by the pandemic. India had the world's fastest-growing aviation market for several years before demand started to falter and Covid-19 shut borders and diminished international travel.
The order is a blow to Pratt, which is owned by Raytheon Technologies Corp. After spending $10 billion to develop a new engine for narrowbody jets, it's faced delivery delays and multiple issues leading to midair shutdowns. IndiGo decided to switch away from its engines in 2019, placing a $20 billion order with rival CFM.
The Indian Airline on a $10 Billion Pandemic Shopping Spree
"We are pleased to extend our partnership with CFM for our next batch of Airbus A320neo, A321neo and A321 XLR aircraft," said Riyaz Peermohamed, chief aircraft acquisition and financing officer of IndiGo. "The introduction of the CFM LEAP engines in our fleet will allow us to maintain our strong focus on lowering operating costs and delivering fuel efficiency."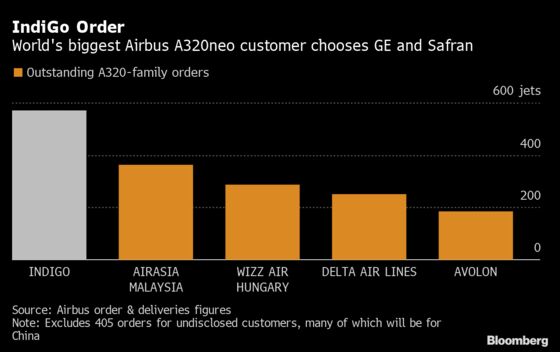 The agreement includes 620 new installed engines and associated spares, as well as a long-term, multi-year service agreement. The engines for A320neo family aircraft will be delivered from 2023 onwards.
The carrier, while impacted by border closures and a dearth of international travel like other airlines, is relatively secure, with about $2.5 billion of cash and equivalents as of Dec. 31. Total debt as of that date was $3.8 billion. It is also planning to raise 30 billion rupees ($409 million) by selling shares as a worsening spike in Covid-19 infections in India has put any domestic or international air travel recovery on hold.