HDFC Life to Acquire Rival in India's Biggest Insurance Deal
(Bloomberg) -- India's largest private insurer HDFC Life Insurance Co. acquired Exide Life Insurance Co. in a deal valued at 66.87 billion rupees ($915 million), as it seeks to boost the distribution of its products across the country.
The deal is "core to our stated objective of wanting to have diversified distribution as well as to build our proprietary channel," Vibha Padalkar, chief executive officer at HDFC Life, said in a call with media on Friday. "We have been eyeing this opportunity for some time."
The biggest insurance deal in the country may spur further consolidation in the sector, which has about 57 firms, including two dozen life insurers. The government's move, earlier this year, to allow foreigners to own more of local insurers, and an increase in demand for medical and life coverage after the pandemic ravaged the country is likely to prompt larger firms to seek more such transactions.
"Life insurance is a fixed-cost intensive business and one needs size, distribution network and high operating level to ensure profitability," said Santosh Singh, senior vice-president and head of research at Motilal Oswal Asset Management Co. "That is why small-size players are not able to cope in the market."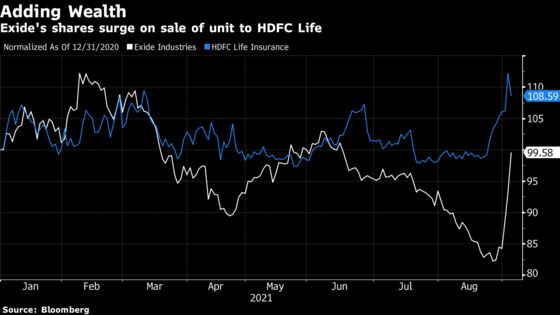 The purchase will accelerate the growth of the agency business of HDFC Life. Exide Life, with a "strong" foothold in South India, especially in Tier 2 and 3 towns, complements HDFC Life's geographical presence, and will provide access to a wider market, according to the statement.
HDFC Life's shares fell 3.2% at 1:11 p.m. in Mumbai, while Exide Industries jumped as much as 15%, the most since 2011.
The synergies related to business and product mix will start showing results in 18-24 months, Padalkar said. State-run Life Insurance Corp. has almost 67% of the life insurance market, while private companies have the rest. 
HDFC Life will issue about 87 million shares at 685 rupees each to Exide Industries Ltd. and will also pay 7.26 billion rupees in cash, according to a statement on Friday. The process for the merger of Exide Life, a unit of battery maker Exide Industries, into HDFC Life will be initiated after the deal is closed.