India's Coffee Output Seen Plunging to Two-Decade Low on Floods
(Bloomberg) -- Coffee production in India will slump to the lowest in 21 years next season as heavy showers, flooding and landslides damaged trees in the main growing areas in the south of Asia's third biggest producer.
Output in the year starting Oct. 1 may be about 25 percent lower than the 316,000 metric tons estimated by the state-run Coffee Board for 2017-18, said A.L.R.M. Nagappan, chairman of the coffee committee at the United Planters' Association of Southern India. That would be the lowest since 1997-98, government data shows.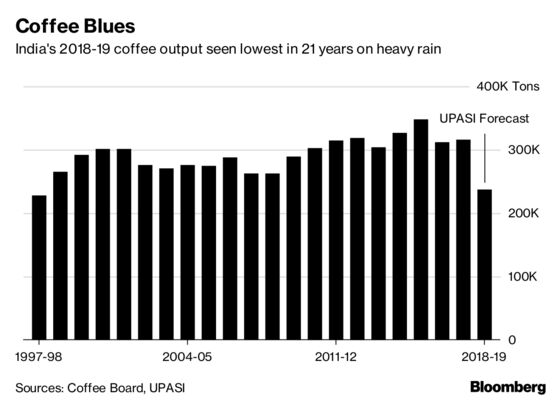 The plunge in output may be positive for global coffee prices because India exports more than 70 percent of its production. Arabica prices, which dropped this week to the lowest in 12 years, climbed 0.9 percent on Friday, while the robusta variety increased 0.6 percent. Arabica prices are still down almost 19 percent so far this year, while robusta prices have dropped about 10 percent.
But for growers in Kerala, the biggest coffee producer after neighboring Karnataka, the damage is only starting.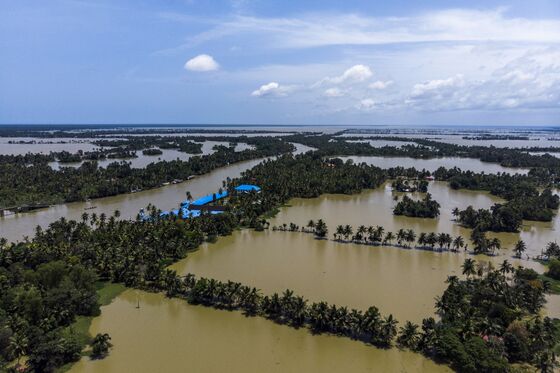 "We are in a bad state and we don't know what the future is going to be," Nagappan said Thursday in a phone interview. "Not only the crop but the plants are also damaged and that will take another three to four years to recoup. Many areas have been affected by land slides."
Floods in Kerala this month have killed at least 394 people and more than $3 billion in damage, according to the state's Chief Minister Pinarayi Vijayan. The area has had 40 percent more monsoon rain than normal since June 1, according to the India Meteorological Department. Showers between Aug. 1 and Aug. 19 were 164 percent higher than average.
Click here for how the rains have also body slammed India's rubber production
"Vigorous monsoon conditions caused flood situations in some other states as well, including Karnataka, interior Maharashtra, Telangana and Madhya Pradesh," the India Meteorological Department said in a statement on Thursday.