India Turbine Maker Slumps After Missing Dollar Bond Payment
(Bloomberg) -- Suzlon Energy Ltd., which became India's biggest convertible-note defaulter in 2012, slumped in Mumbai after missing payments on dollar-denominated convertibles due Tuesday.
Shares of the stressed wind-turbine maker fell as much as 8.6% in trading on Wednesday after missing a July 16 deadline to repay $172 million outstanding on the securities. While an earlier debt revamp helped the company's shares surge in 2014-2015, they've since slumped as increased competition has diluted Suzlon's market share.
"The company is working on holistic solution for its debt and continues to be in discussions with various stakeholders in relation to its outstanding debt (including the bonds)," it said in an exchange filing Tuesday evening. The company has a seven-day grace period to honor the obligation, according to people familiar with the matter, who aren't authorized to speak publicly and asked not to be identified.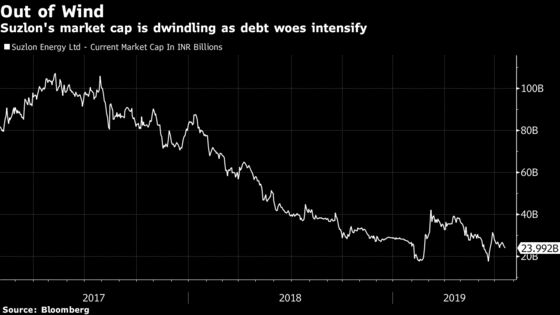 The stumble at Suzlon adds to strains in India's credit market, where investors are still reeling from a string of defaults in the last year, from IL&FS Group to Cox & Kings Ltd. The wind-turbine maker's bank facility ratings were cut to default by Care Ratings in April after it failed to meet payback obligations to its lenders.
The company's shares pared losses to 3.9% and were trading at 4.47 rupees as of 2:22 p.m. in Mumbai trading. Some traders in Suzlon's bonds have been pinning their hopes on a proposed acquisition of the embattled company by Toronto-based Brookfield Asset Management Inc. A person familiar with the matter said earlier in July that Brookfield might make a binding offer for a stake in the company as soon as July end.