India Minister Denies 'Wild' Sexual Harassment Allegations
(Bloomberg) -- India's junior foreign minister M.J. Akbar has denied sexual harassment allegations made against him by women journalists as the #MeToo movement spreads across the South Asian nation.
M.J. Akbar, a former journalist and author, is the first politician to be named in the flood of accusations of inappropriate behavior by prominent men in India that began with Bollywood and moved into the media industry. Multiple women alleged Akbar acted inappropriately decades ago during his time as an editor of several Indian publications.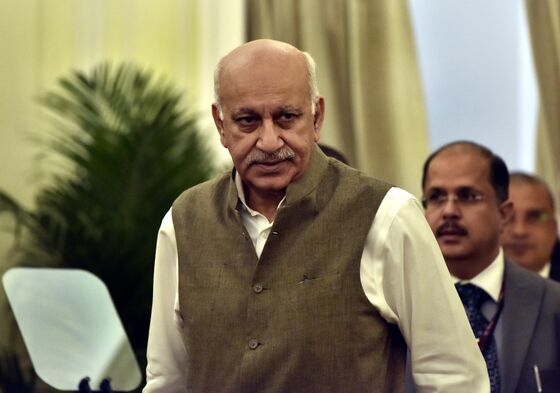 "These false, baseless and wild allegations have caused irreparable damage to my reputation and goodwill," Akbar said in a Twitter statement on Sunday. The statement further said Akbar would take "appropriate legal action," without giving details.
Calls to Akbar's office and residence went unanswered, as did emails to his personal and work accounts. Raveesh Kumar, a spokesman for the external affairs ministry, declined to comment because the statement was issued by Akbar in his personal capacity.
Roughly a dozen women, including a Bloomberg journalist based in London, have alleged that Akbar sexually harassed them or engaged in other inappropriate behavior. The allegations range from Akbar forcibly kissing young interns and interviewing women in his hotel rooms, to offering to set young female employees up with a job and an apartment where he could visit them. Others say he stared at their breasts and touched them without their consent.