India Education Startup Raising Funds at $8 Billion Valuation
(Bloomberg) -- Byju's is raising about $300 million in a funding round led by New York-based Tiger Global Management, securing new capital at a valuation of $8 billion for the online education startup's global expansion.
Tiger has invested about $150 million in Byju-parent Think and Learn Pvt, according to people familiar with the deal. Existing investors will likely contribute about the same amount though that is in flux, one of the people said, asking not to be identified discussing a sensitive matter. Separately, Tiger is also looking to buy shares from other stockholders and could eventually invest a further $100 million depending on availability, one of the people said.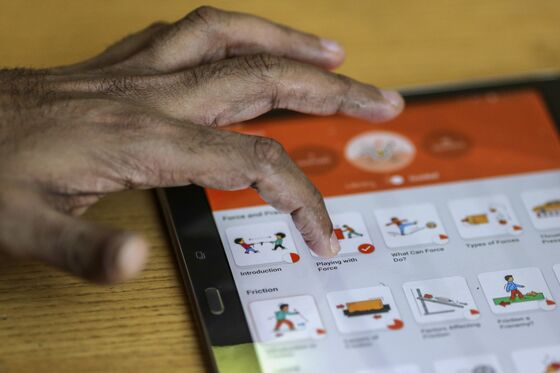 The new funding round confers on Byju's the title of India's most valuable startup after Ant Financial-backed fintech firm Paytm and the budget hotel rooms startup OYO. Byju's, last valued at about $5.7 billion, overtakes online retailer Snapdeal and is the only one of the top three that hasn't taken funding from SoftBank Group Corp or its Vision Fund. Paytm rose to the fore after Walmart Inc. acquired Flipkart Online Services Pvt. -- also SoftBank-backed -- in a $16 billion deal in 2018.
"Byju's has emerged as the leader in the Indian education-tech sector," Scott Shleifer, a partner at Tiger Global, said in a statement that didn't specify financial details. "They are pioneering technology shaping the future of learning for millions of school students in India."
Tiger Global didn't respond to an email seeking details of the funding and valuation. A Byju's spokeswoman declined comment.
Byju's was founded by Byju Raveendran in 2011, a former teacher and son of educators, who conceived a smartphone app to help students learn and master concepts from math and science using short videos. In a country that places a premium on education, Byju's launched its app just as smartphones were becoming ubiquitous. The app caters to students from kindergarten through 12th grade and now plans to go global and launch in English-speaking countries around the world, including the U.S., Canada and the U.K.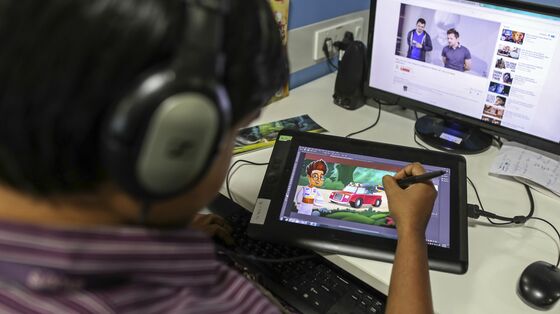 It also plans to go deeper in its home country, where it's working on launching learning modules in Indian languages to make it more accessible. Byju's, also backed by Facebook Inc. Chief Executive Officer Mark Zuckerberg through the Chan-Zuckerberg Initiative, Tencent Holdings Ltd., Naspers Ventures and Sequoia Capital India, has over 42 million registered users and 3 million paid subscribers from both rural areas and India's cities. On average, students spend between 64 minutes to 71 minutes per day on the app. Annual renewal rates were up as high as 85% in the past year, the startup said in Friday's statement.
Byju's said it expects to double revenues to 30 billion rupees ($422 million) in the year ending March 2020, after tripling revenue to 14.8 billion rupees in fiscal 2019 and turning profitable on a full-year basis.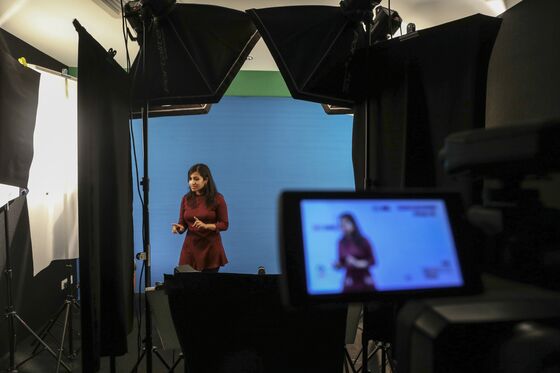 "While these are early days on how technology can enable better learning, there is tremendous potential in this segment to create a highly scalable and sustainable model that can equip and prepare the current generation for the unseen jobs of tomorrow," Raveendran said in the statement. The founder, who owns about 21% of the startup in addition to his family's holding, became a billionaire last year.
The 37-year-old entrepreneur has said he wants to do for education what Mickey Mouse did for entertainment. Last year, the app started using Disney staples from The Lion King's Simba to Frozen's Anna to teach math and English to students from grades one through three. The same characters star in animated videos, games, stories and interactive quizzes.