India Cuts Tax on Housing to Boost Real Estate Before Elections
(Bloomberg) -- India lowered tax on unfinished residential buildings and affordable houses to boost the real estate sector, as well as to ease the financial burden on home buyers.
A panel of federal and state finance ministers on Sunday decided to lower rates on under-construction housing to 5 percent and affordable units to 1 percent, without input tax credit. The new rates will take effect on April 1.
"We wanted to give a boost to the real estate sector as well as give relief to the middle class, neo-middle class and the aspirational middle class," Finance Minister Arun Jaitley told reporters after a meeting among the ministers. The reduction in rates will maintain "revenue neutrality," he added.
The tax rate cuts are likely to cover 90-95 percent houses in Tier two and three cities and about a third of the projects in the top-tier ones, said an official, who declined to be named.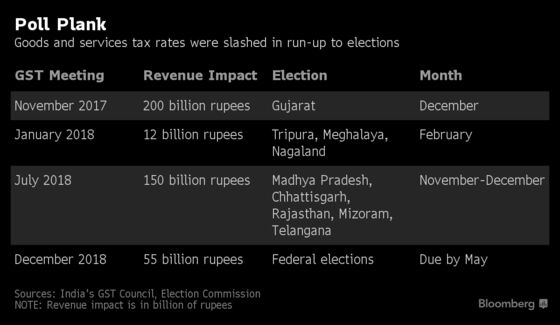 The cut, at least the eighth since the goods and services tax was introduced in 2017, is aimed at helping boost home purchases and get the economy firing again before a national election expected by May
Recent data showed the economy's expansion may be under threat. Gross domestic product growth in the three months through September slowed to 7.1 percent from the 8.2 percent pace seen in the previous quarter
Data due Thursday will probably show the economy grew at a slower 6.7 percent in the quarter through December, according to a Bloomberg survey of 15 economists as of Friday
While Modi separately proposed $13 billion of consumer stimulus in his government's final budget this month, the central bank provided support by unexpectedly cutting interest rates to aid growth
Houses of carpet area of up to 60 square meter in metro cities and 90 square meter in non-metro locations with value of up to 4.5 million rupees (about $63,000) have been defined as affordable for the benefit
To read on GST Council's past decisions, click here