In Vietnam, Poor Demand Leads to Peak Share Auction Withdrawals
(Bloomberg) -- When state-owned Vietnam National Shipping Lines announced a 35 percent stake sale earlier this year, it was confident it could raise more than $200 million. It only managed to pull in $2.3 million.
The company known as Vinalines wasn't the only one to meet poor demand. Viglacera Corp., a government-controlled maker of building supplies, failed to sell shares when it offered a 17.97 percent stake in July -- not a single investor registered bids.
Vietnam's communist leaders are struggling to find suitors as they seek to offload shares of state-owned enterprises. So far, the government has managed to privatize only 10 of the 64 companies it meant to sell this year, according a report on the Ministry of Finance's website. In total, 17 auctions -- popular ways in Vietnam to sell shares -- have been withdrawn since January, with the total deal value canceled reaching a record $401 million, data compiled by Bloomberg show.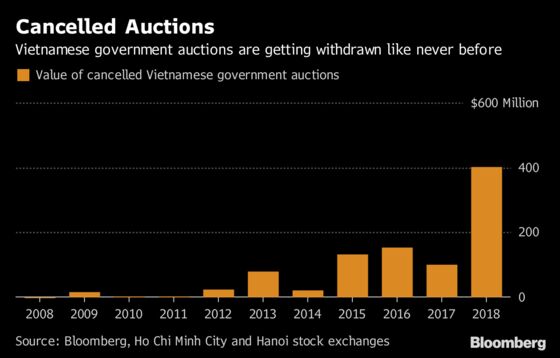 It's not that investors have no love for the Southeast Asian nation -- they're willing to pay up for private companies. Shopping-mall operator Vincom Retail JSC set the biggest-ever fundraising amount in an initial public offering last fall. That record stood until Techcombank's share sale in April, which brought in $922 million. A month after that, luxury property developer Vinhomes JSC hauled in almost $1.4 billion.
"Private company IPOs in Vietnam did well because there is more transparency in the process -- management meetings, prospectus, book-building process," said Ruchir Desai, a senior investment analyst at Asia Frontier Capital Ltd. in Hong Kong. He pointed out they're also mostly linked to the rising growth of the Vietnamese consumer. "Some of the SOEs were loss making or had high debt levels, and they are also probably in sectors where there is not much interest."
That's something the government is trying to address. In a bid to make the Vietnamese stock market more appealing to foreigners, the State Securities Commission is drafting a circular of guidelines to apply the book-building method -- which tends to get the attention of international institutional investors -- for SOE initial offerings and divestments. Regulators have also been seeking opinions on a draft securities law that would allow public companies not operating in restricted sectors to have 100 percent foreign ownership.
For the Techcombank sale, Singapore sovereign fund GIC Pte and Fidelity Investments were cornerstone investors.