In Sweltering Texas, Power Just Jumped to $2,380 a Megawatt-hour
(Bloomberg) -- Electricity prices in south Texas surged to about 100 times above this year's average as hot weather kicked air conditioners into overdrive as power plants were down for seasonal maintenance.
Spot prices southeast of Corpus Christi hit $2,380 a megawatt-hour at 2:50 p.m. local time, according to the Electric Reliability Council of Texas, which operates most of the state's grid. The average hourly price in South Texas so far this year was $23.64 a megawatt-hour as of Tuesday, Genscape data shows.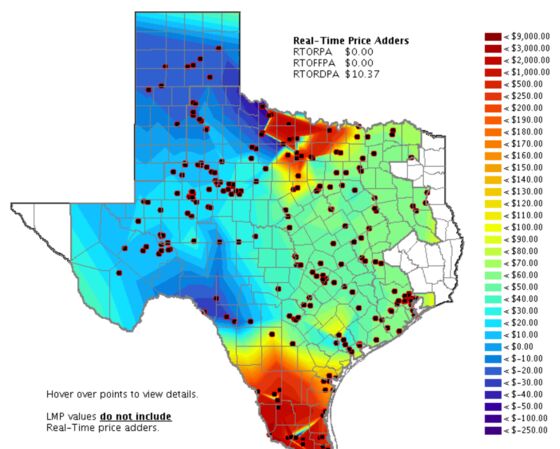 "It's insanely hot and humid," Genscape analyst Jeffrey Thibodeau said in an interview. Several generating units are off line for spring maintenance, and demand from Mexico is pulling about 280 megawatts south of the border, he said.
Corpus Christi was forecast to reach 84 degrees Fahrenheit (29 Celsius) as gathering thunderstorms pushed up humidity, according to the National Weather Service. Moisture in the air makes the temperature feel like 90 degrees.