The Italian Contagion Risk Is Hiding in Global Market Tumult
(Bloomberg) -- A global bond rout has made the task of keeping up with Rome's political drama even thornier -- investors are having to sift through a broad surge in borrowing costs to try to isolate the Italian impact.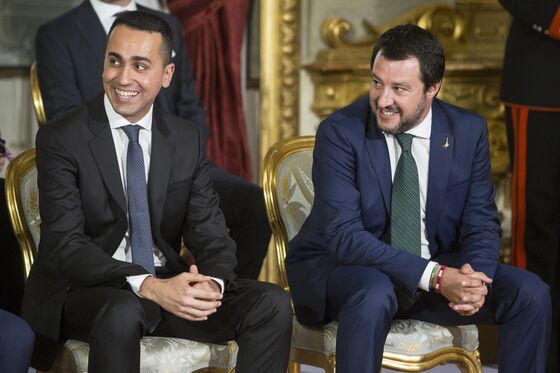 That the country's assets have been battered by Matteo Salvini and Luigi Di Maio's determination to pursue a budget deficit of 2.4 percent in defiance of the European Union can be in no doubt. Bond yields have surged to the highest in four years, while Italian stocks are flirting with a bear market as shares in the nation's banks tumble.
What's less clear is the level of contagion across financial markets from a country boasting the euro area's third-biggest economy and the third-largest debt load of any developed nation relative to GDP. A violent surge in U.S. Treasury yields unleashed by relentless American economic growth and expectations for tighter policy has repriced risk assets from credit to equities.
"Markets are once again shaken by anti-European rhetoric," Ben Emons, chief economist at Intellectus Partners LLC, wrote in a research note. While the knock-on effects are so far contained, "contagion through weakness in bank shares can spread through the euro and in turn affect spreads in Spain and other peripherals that optically look insulated from tensions in Italy," he said.
Here's a look at how the growing tensions are playing out -- or not -- beyond Italian shores:
Pressure on credit in Europe can be assessed using indexes that track baskets of credit-default swaps. The trouble is, a blow-out in the rates market almost inevitably leads to upward pressure on CDS. One way of seeing past that would be to look at the components of the index to see which are underperforming, and hence driving the broader move.
The cost of insuring highly rated European corporate debt, as measured by iTraxx indexes, rose to the highest in three months on Monday. The four most expensive swaps in the index are all tied to Italian companies -- toll-road operator Atlantia, and lenders Mediobanca, Intesa Sanpaolo and UniCredit.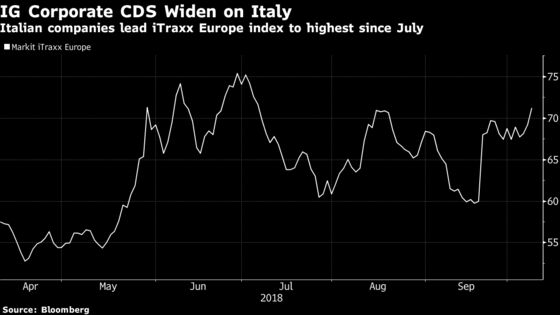 Given the pressure on Italian lenders, which are heavily exposed to sovereign debt, some spillover in the banking industry was inevitable. Greek banks didn't need an additional reason to drop in the stock market, yet Italy gave them one anyway.
Hellenic lenders including Eurobank Ergasias and Piraeus Bank are generally viewed as a more speculative, more volatile investment their Italian counterparts. Yet both sectors struggle with legacy bad loans and are treated by some investors as fish swimming in the same stream.
The FTSE/Athex Bank Index closed 6.5 percent lower in Athens Monday, compared with a 3.7 percent decline in the FTSE Italia All-Share Banks Index. Both gauges deepened their losses on Tuesday.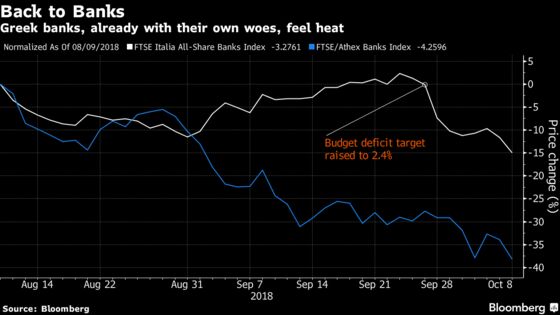 Piraeus has been hit particularly hard in the recent selloff, after the bank's CEO said the lender was looking at opportunities to issue debt in order to boost capital.
The euro has been under pressure of late, but much of that movement could be blamed on renewed vigor in the greenback. Bloomberg's dollar spot index has gained for eight days out of nine through Tuesday.
For a cleaner read on the European situation, a look at the euro-yen rate might help strip out some of the dollar effect. The euro has dropped against the Japanese currency for nine days out of 10 and is at about the weakest in a month.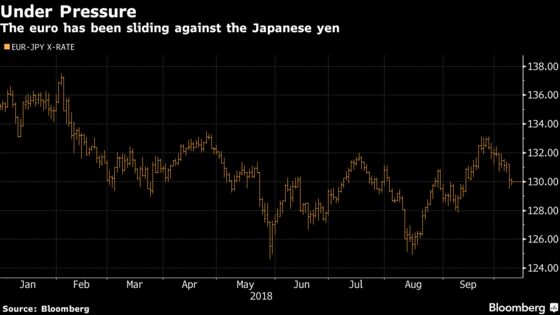 On an intraday basis, the euro slid against the yen on Monday morning -- extending declines at almost exactly the time Salvini and France's Marine Le Pen were speaking together at an event in Rome. Salvini described the President of the European Commission as an enemy of Europe; Le Pen said they were part of a fight against the "totalitarian" EU.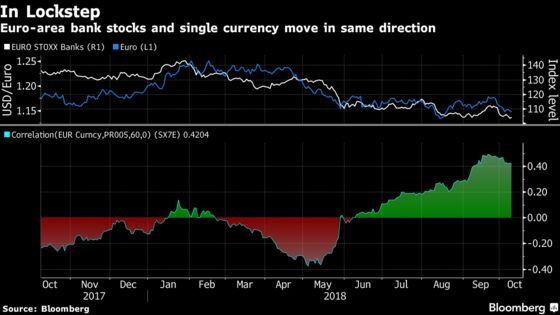 For all the worries seeping into markets, and even amid the global bond rout, one thing is clear: Italy has yet to trigger all-out contagion, If it had, Spanish assets would be firmly in the firing line, since many investors treat the so-called peripheral countries of Europe as one group.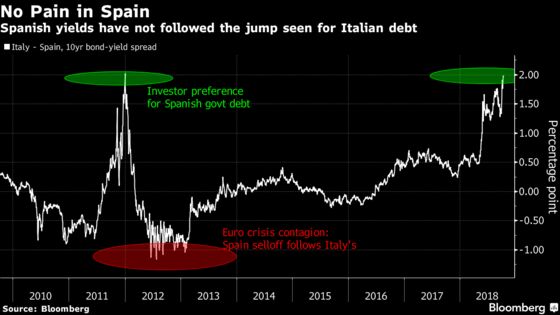 That said, absolute moves in the bond market underscore some caution -- bunds were in demand this week as Italian yields hit the highest since 2014. The safety of German debt evidently still holds some appeal, even with yields that lag the U.S. by the most in decades. Once again, the bund move accelerated as Salvini and Le Pen held court on Monday.
Meanwhile, Spain's 10-year yield rose to as high as 1.63 percent today, which would be its highest close of the year.
And then there's the restive corner of the CDS market, known as the ISDA basis, which signals whether traders are hedging the tail risk that a European nation will effectively leave the single-currency bloc.
In Italy, the spread between the 2014 CDS contract versus its 2003 counterpart has ballooned since the summer, reflecting angst that Rome's fiscal trajectory imperils its euro membership. The newer swap provides greater protection against the prospect sovereign debt is converted into a national currency. Equivalent premiums for Italy's peers remain low -- reflecting the lack of fear over currency-redenomination risk elsewhere.