In San Francisco, Work From Home Means Going to Coffee Shop
(Bloomberg) -- San Francisco's Financial District is eerily quiet. The massive Salesforce tower sits mostly empty, with plenty of seats on public transportation and few lines at popular lunch spots.
Two miles away, in the Russian Hill neighborhood on Polk Street, coffee shops are crowded with people in athleisure and AirPods on company-issued laptops "working from home."
While remote working is now widespread across the country, Bay Area tech companies including Twitter Inc., LinkedIn and Salesforce.com Inc. were among the first to encourage or mandate employees stay out of the office to prevent the spread of the new coronavirus. About a week into that effort, San Franciscans are already restless, their caffeine habits undermining the whole social-distancing push.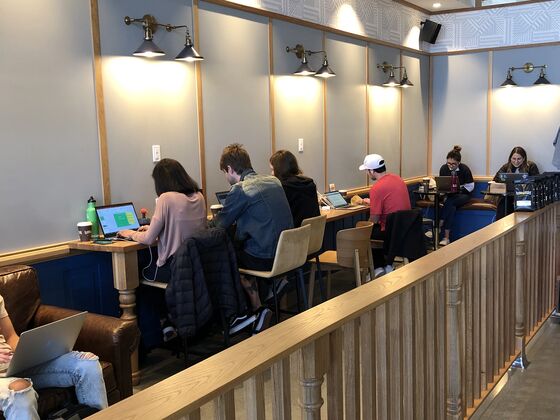 "They're bored and want to get out of the house because they're cooped up at home," Starbucks employee Nadia Tawalbeh said Thursday of the couple dozen people in their twenties and thirties taking up all the tables in the Polk Street store, working on Powerpoints, sending emails and writing lines of code.
At a nearby Philz coffee shop, a manager said business has been busier than usual and that regulars are having trouble finding space to work. Normally, that isn't an issue.
Down the street, an employee at Royal Ground coffee noted a definite surge in the number of people with laptops. "They're working from home," she said, her fingers making heavy air quotes as a surgical mask hung around her neck.
Moving hordes of people from the office to the coffee shop defeats the purpose of the work-from-home policy, said William Hanage, an associate professor of epidemiology at Harvard University.
It's "just setting up different transmission networks," Hanage wrote in an email. "That's why the message needs to be 'work from home.' Don't let your local coffee shop go bust, just get your java to go."
Starbucks's Tawalbeh also pointed out that remote working in a crowd makes little sense. She was wearing latex gloves.
"I'm a bit paranoid," she said.