In GE Overhaul, Once-Mighty Finance Arm Goes Out With a Whimper
(Bloomberg) -- General Electric Co.'s finance business was once considered "too big to fail'' by the U.S. government. These days, John Flannery is trying to make it too small to notice.
The chief executive officer is selling the bulk of what's left of GE Capital as part of an effort to remake the parent company into a less volatile -- and much smaller -- maker of aerospace and power equipment.
When he's done, the lending side, which GE has been downsizing since the financial crisis, will consist of a world-class aircraft leasing unit and not much else. It wasn't that long ago that it offered everything from credit cards and commercial real estate loans to freight-train financing and pet insurance.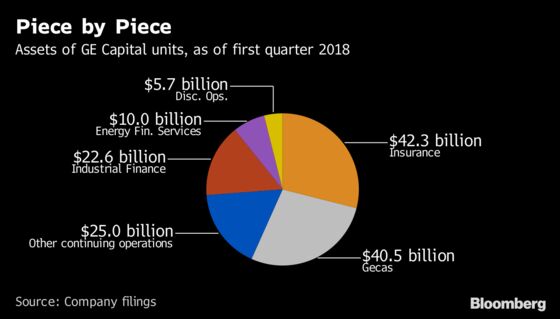 Flannery's plan, which also calls for spinning off the health-care division and backing out of the oil and gas market, would effectively complete the slow-motion breakup of a banking business that predecessors Jack Welch and Jeffrey Immelt had built into a Wall Street titan.
"By and large, GE Capital as we've known it is going to be pretty de minimis by 2020,'' said Nicholas Heymann, an analyst at William Blair & Co. He predicted GE may soon fold the jet-leasing operation into its plane-engine division.
Immelt in 2015 announced that GE would sell more than half of GE Capital's assets, while holding onto the businesses that supported the manufacturing units. For instance, GE retained operations that helped customers finance purchases of power equipment such as gas turbines.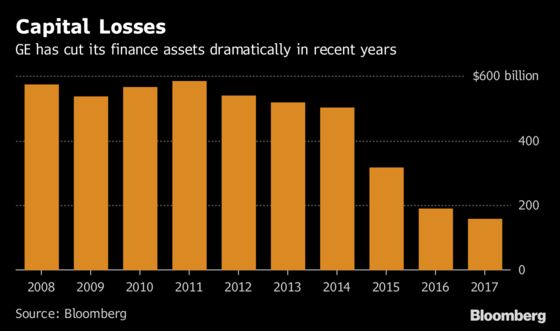 The piecemeal sales, along with ordinary reductions in values, have whittled GE Capital down to $146 billion of assets. Before the financial crisis, the assets topped $600 billion.
"We've been fundamentally downsizing," Flannery said in an interview after this week's makeover announcement.
Under Flannery, who took the helm last year, GE has had even less of an appetite for finance. In the latest plan, the Boston-based company will sell $25 billion of assets from the industrial- and energy-finance businesses over the next two years. That will mostly wipe out the units, which had less than $33 billion in combined assets last quarter.
The new CEO is also aggressively exploring options to rid GE of its legacy insurance business. Those liabilities are drawing investor ire, particularly after GE in January took a multibillion-dollar charge due to deterioration in an old book of long-term care policies.
There will be suitors. Already, Athene Holding Ltd., an annuity seller with ties to Apollo Global Management, has expressed interest in buying some or all of GE's insurance business, Bloomberg reported this week.
Still, calling it a sale is somewhat of a misnomer. Given the magnitude of the liabilities -- GE has said it would put $15 billion into loss reserves -- the company will likely need to pay a sizable amount to offload it, said Deane Dray, an analyst at RBC Capital Markets.
Flannery, who spent decades in finance roles at GE, acknowledged the diminishing role of lending at the company but wouldn't call it the end of GE Capital. After all, there's still one big business left.
GE Capital Aviation Services, better known as Gecas, is one of the world's top plane lessors, with a fleet of almost 2,000 aircraft. The business generated $283 million in profit in the first quarter, while GE Capital overall lost $1.8 billion.
Flannery has no plans to sell Gecas, which he argues is complementary to GE's jet-engine manufacturing operations. Still, he said there's a lot of external interest, giving GE "optionality" down the road. As he put it, potential acquirers "call us constantly."