In-Flight Media Stocks Diverge After Years of Turbulence
(Bloomberg) -- In-flight media provider Gogo Inc. has seen little recovery since its May 8 plunge of 36 percent. Meanwhile, one of its fiercest competitors -- Global Eagle Entertainment Inc. -- surged 35 percent Monday.
Shares of both companies have fallen at least 70 percent over the past five years, but Northland Securities analyst Paul Penney now sees the two moving in opposite directions. While Gogo is grappling with "deep-rooted" problems, Global Eagle is "in the early innings of a financial and operational comeback," Penney said in a phone interview.
It appears Global Eagle's management shares the positive sentiment held by investors and analysts. Nine insiders, including the executive chairman, chief executive and several board members, purchased $1.42 million worth of shares on Monday. Global Eagle extended gains Tuesday, rising as much as 10% as of 1:11 p.m.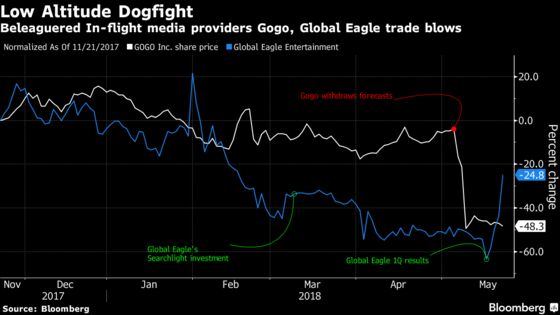 Global Eagle secured $150 million in funding from Searchlight Capital in March and has signed several new business deals, including a new undisclosed customer in Europe.
"The Searchlight investment gives investors comfort that there's adequate runway to run the business," Penney said. "They now have a balance sheet that will enable them to regain their footing in the marketplace."
William Blair analyst Louie DiPalma says the new European customer -- which he thinks is Air France -- and India's Jet Airways are expected to begin generating revenue for Global Eagle in the third and fourth quarters.
Meanwhile, Gogo has been hit with downgrades after withdrawing a slew of financial forecasts earlier this month. Penney cut his price target to a Street-low $1.50 on Friday, implying another 71 percent downside for the stock. He advised investors to "grab a parachute before continued equity erosion."