Californians Expected to Rebuild Burnt Homes Despite Continued Fire Risk
(Bloomberg) -- Joel Denver lived in his Malibu home for 31 years without ever being evacuated. So as fires approached last week, he didn't bother packing much because he figured he'd be back soon. While buying essentials at Kohl's, he got a message from a neighbor that his house was gone.
"It's surreal," said Denver, the president and publisher of All Access Music Group, a music website. "'I never thought we wouldn't be returning."
He hasn't yet been able to get back to see it himself, as firefighters continue to clear the area. But Denver knows this: He plans to rebuild. "We are excited about doing that," he said. "We already have a contractor that we've talked to."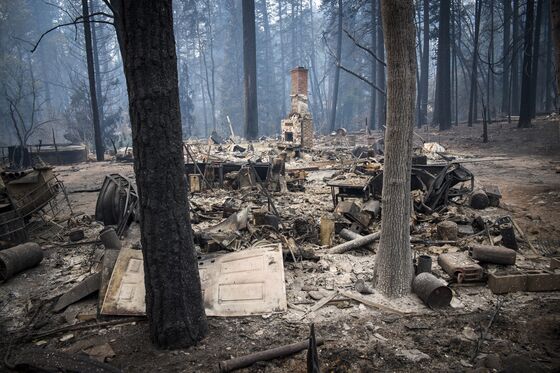 As California struggles with the latest round of blazes -- in both the Malibu area and in the northern part of the state -- it's clear the damage will be historic. Dozens have already been found dead, some trapped in their cars as they tried to escape the massive fire that swept through the town of Paradise in Butte County. Billions of dollars in property losses are expected statewide.
Soon, though, conversation will move beyond the immediate needs of people who've been affected. If the past is any guide, that'll mean putting up homes in some of the areas that are prone to burn again.
"Historically, if you look back in the aftermath of natural disasters, we've tended to rebuild bigger and better and more expensive than we used to," said Aaron Terrazas, a senior economist at Zillow Group Inc. "These fringes between urban and wild tend to be very desirable."
Not everyone thinks that's a good idea. Some experts have begun to call for a retreat from building homes in places that are likely to burn. It's an unpopular point of view in a state with a housing shortage and plenty of wooded hillsides where people want to live. But as climate change causes more frequent and devastating wildfires, calls for restraint are growing louder.
How long it takes to rebuild after the current round of wildfires depends on the financial resources of each household, said Frank Nothaft, chief economist at CoreLogic, a real estate data firm. For a place like Malibu, a wealthy enclave populated with Hollywood stars, that could be easier. In Paradise, a more modest community popular with retirees, some former residents may have no choice but to walk away. Others may just choose to do so after seeing their communities burn.
"There may be some people who say, 'Gosh, I've had it. I'm going to move to Idaho," Northaft said.
There are signs that the housing market is starting to internalize some of the costs of what California Governor Jerry Brown has dubbed the state's "new abnormal" of year-round fire risk. Homes in the most risky areas in California appreciated 23 percent over the last decade, compared with a 44 percent gain statewide, according research by Attom Data Solutions.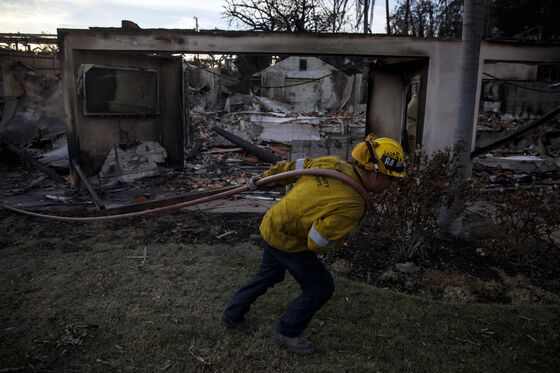 "Home sales are stronger compared to 10 years ago," said Daren Blomquist, Attom's senior vice president. "But combined with the weaker appreciation, that would suggest more supply in these areas relative to demand."
In the near term, though, the loss of properties may only exacerbate California's severe housing shortage and drive up values for the structures that didn't burn. After wildfires decimated parts of wine country in Northern California last year, median home prices quickly started climbing again after a brief dip, according to research by Trulia.
People who want to rebuild will also have to contend with soaring building costs, driven by a labor shortage and more expensive materials. Insurance companies are also charging more to compensate for the risk they're taking.
"Communities rebound," said Zillow's Terazzas. "But this is a particularly difficult moment for that."
Those sorts of near-term challenges are common after many natural disasters, said Carolyn Kousky, director of the policy incubator at the Wharton Risk Management and Decision Processes Center at the University of Pennsylvania.
"Recovery is so much longer and slower than people appreciate at the outset," she said. "It'll go out of the headlines, but they'll still be struggling with this."
Even so, Denver, the Malibu homeowner, expects many in his town will return. Already, dozens of crowdfunding pages have cropped up for people trying to recover.
"Most people really love the place," Denver said. "And its not just Malibu. There is no place that is immune from this. If you live in California, you live in a potential fire area."