Defending Shorts, Hindenburg Takes on Palihapitiya's Clover
(Bloomberg) -- Billionaire Chamath Palihapitiya has been talking up the evils of short selling, offering no sympathy for hedge funds and defending the right of retail investors to sway the fate of stocks the way Wall Street pros do.

Now one of those pros is taking aim at a startup backed by the venture capitalist and taken public through one of his special purpose acquisition companies. Hindenburg Research, a short seller that gained fame last year with its critical analysis of Nikola Corp., has come out with a report targeting Palihapitiya's Clover Health Investments Corp., claiming the health insurer misled investors and failed to disclose a Justice Department probe.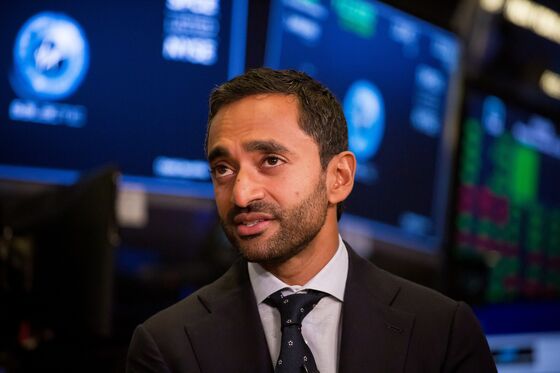 The company's shares tumbled 12% Thursday. Clover is working on a response to the report that should come out Friday, a spokesman said. A spokesperson for Palihapitiya didn't respond to requests for comment.

Hindenburg said it's not betting against Clover shares, and its motive was to show the value of "critical, adversarial research" after retail traders upended the market in a rebellion against Wall Street short sellers. Individual investors piled into beaten-down stocks such as GameStop Corp. last month to send shares soaring, leading some short sellers to abandon their bets entirely after incurring massive losses.

"Everyone is angry, and right now we believe it is important to explain the role short sellers play in a healthy, functioning market," Hindenburg said in its Clover report.
Hindenburg alleged that Clover is under investigation by the Justice Department for potentially overcharging the federal government for health-care services. The research firm said a former employee received a request from the U.S. attorney in Philadelphia in late October to provide information on Clover's billing practices, just weeks after Palihapitiya announced his plan to take the company public.
Clover, based in Franklin, Tennessee, hasn't disclosed the existence of any probe. A Justice Department spokesperson wouldn't deny an investigation into Clover.
The trading frenzy in recent days has bloodied some well-known hedge funds and left several wary of sticking with their old strategies. Citron Research, for one, has said it will no longer publish short-selling analysis after 20 years of providing the service.
Palihapitiya has been one of the vocal backers of individual investors storming the bastion of Wall Street shops, and egged on the prospect of established firms getting knocked off their perches. The investor's public profile has soared during the pandemic, in particular after he advocated that the government should let large companies go bankrupt rather than bail them out. He said taxpayer funds should be sent directly to individuals.
The serial SPAC-dealmaker has also invested in a half-dozen deals unrelated to his own blank-check vehicles.
Hindenburg's most well-publicized report targeted Nikola last September, alleging the clean-energy trucking startup was "an intricate fraud built on dozens of lies." Hindenburg alleged that Nikola had given a misleading impression of its technology by rolling a prototype down a hill in a promotional video. The company's founder resigned and the U.S. Securities and Exchange Commission opened an investigation in the wake of the report. General Motors Co. scrapped a planned equity investment months later. Nikola has denied misrepresenting itself.
Prior to the report, Nikola's stock had soared after the company went public through a reverse merger with a SPAC.