In Carlos Tavares, Fiat Family Finds Heir to Marchionne Legacy
(Bloomberg) -- As the scion of the Agnelli family's industrial dynasty, John Elkann honed his management skills under Sergio Marchionne, who brought Fiat back from the brink before turning it into a global force with the purchase of Chrysler. When Marchionne died suddenly last year, Elkann pushed ahead alone with their quest for another major partner.
On Thursday, Fiat Chrysler Automobiles NV announced a combination with France's PSA Group to create a regional powerhouse rivalling Volkswagen AG with a stock-market value similar to that of Honda Motor Co. Elkann stands to gain a new sidekick: Carlos Tavares, PSA's 61-year-old chief executive officer, who has shown his mettle building an international automotive group while keeping costs under control. Those qualities would make him the heir apparent of the empire Marchionne built.
"Auto sector deals are incredibly complex to deliver upon and have no hope of success without a 'Great Man' CEO at the controls," said Max Warburton, an automotive analyst at Sanford C. Bernstein & Co. "It's clear that Tavares has spent years thinking about how a deal with FCA might work."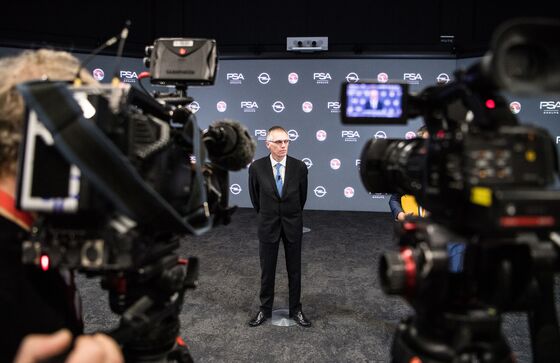 PSA, maker of the Peugeot brand, may not have been Elkann's preferred partner -- another merger attempt with Renault SA fell through in June after demands by the French government proved insurmountable. But Tavares best fits the mold of Marchionne, a shrewd operator who passed away after a short illness in July 2018 at the age of 66.
Both men turned around businesses that from the outside looked beyond repair. Marchionne accomplished that feat with Fiat, before combining the storied Italian brand with Chrysler to gain a global footprint. Tavares revived Peugeot after it was saved from the brink. Two years ago, he managed a bold reversal when he took over Opel from General Motors Co. and successfully integrated the notoriously unprofitable asset.
And both men have styled themselves as bold visionaries. Marchionne endlessly propagated the need for mergers, saying the industry is rife with duplication and could save billions if it pooled resources in areas like research and purchasing. Tavares, too, has been blunt about the need for car manufacturers to adapt or risk going under, and says global scale is key.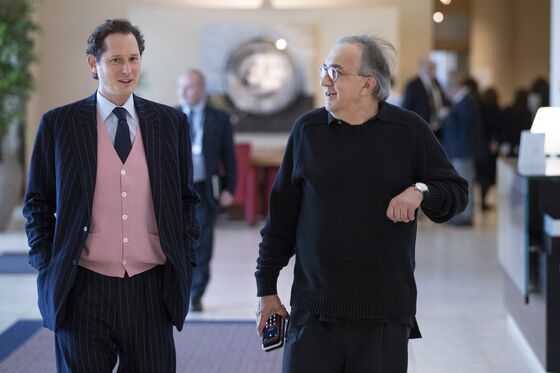 'Particularly Opportunistic'
A merger with Fiat Chrysler would mark a reversal of fortune for Tavares, who was forced into a bystander role earlier this year when Elkann approached Renault, PSA's French rival. At the time, Tavares didn't mince his words, calling the transaction "particularly opportunistic" for Fiat Chrysler and a "virtual takeover of Renault by Fiat."
Fiat and Peugeot have a long history of flirtation, dating back as far as the 2008 crisis when Elkann and Marchionne were hunting for a partner before engaging with Chrysler. In 2013, Emmanuel Macron, then a top adviser to President François Hollande, held preliminary talks with Fiat about a merger with troubled Peugeot. And at the end of 2014, Marchionne was told by some of his advisers that Tavares was interested in discussing a merger.
Tavares, a racing enthusiast like Marchionne, joined PSA five years ago after serving under Renault-Nissan's now-disgraced former boss, Carlos Ghosn. That assignment bore significant risk, with PSA in trouble and lacking the heft to compete globally. A ruthless cost cutter, Tavares managed a turnaround by pushing unions to accept job losses and slashing costs on everything from printers to phones. He used the same methods when he took over Opel in 2017, restoring that business to profit within a year.
"It makes perfect sense that Carlos Tavares will run the show, given his experience restructuring businesses," said Arndt Ellinghorst, an automotive analyst at Evercore International Ltd. in London. "It looks like a merger of equals; both companies are earning money, balance sheets are restored."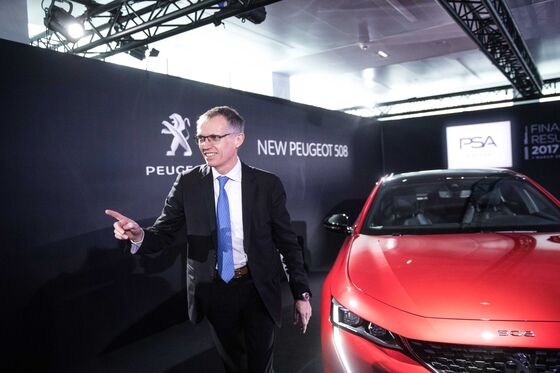 In its most recent quarter, PSA was able to weather a slump in the auto industry with demand for popular models like the Peugeot 508 and Citroen C5 Aircross. Its operating margin reached 8.7% in the first half of the year, exceeding the profitability of many rivals. By contrast, Renault slashed its outlook for revenue and profit this month.
Tavares will have ample opportunity to put his integration abilities to the test at the enlarged group. Cost savings from the deal without plant closures are projected to be about 3.7 billion euros ($4.13 billion). Some analyst have more ambitious projections, with UBS estimating they could reach as much as 6.6 billion euros every year by avoiding duplication of capital spending in new technologies.
Peugeot-Fiat would compete with GM -- long Marchionne's proposed partner -- for the spot of fourth-biggest carmaker, with more than 8 million vehicles sold per year and revenue in excess of 180 billion euros. It could surpass Volkswagen's profit margin, according to JPMorgan analysts.
Tavares will hold the CEO title for five years at the combined entity, while Elkann will be chairman, the companies announced early Thursday. No plant closures are planned, and any savings would come from more efficient pooling of resources, they said.